In the present scenario there is an app for everything, so why not for your wedding plan business? Wedding, of course, is one of the most crucial affairs in one's life. If you are a wedding planner, it's only you who knows the pain and what all it takes to plan a successful wedding.
It is truly stressful and requires a lot of planning too. Thus, there are enormous things that need to be taken care of, making the entire process too hectic for the wedding planner.
Hence, the utilization of advanced technology and applications proves to be gainful while making your work easier. The free time left can be utilized for more creativity and other important tasks.
Ever Considered a Mobile App for Wedding Planning?
As per a survey conducted, brides and grooms prefer to do 83% of their wedding planning online. The power of mobility is incredible and, it has made people's life much convenient and staying in their comfort zones.
Helping people connect with others at their comfort zone and planning an organized wedding is just like a cherry on the cake. Whether it is about sending invites, customized designs, or more the wedding planning apps help to reveal all the vendors easily.
General Features in a Wedding Planner App
1. Selecting Potential Venues
The venue is the most vital aspect that a customer needs to select for any event, whether it is a wedding, engagement, or a birthday. All other things will automatically fall in place once the venue is selected. To make it easier for the customers, the app must provide all the locations with 3D images to make the selection quicker and easier.
Just think once, how much time you and your family would be able to save with the features like these. There is no need to drive to the different venues, walk around, miss your work, and a lot more. With the 3D tours, clients can browse all the venues and select the suitable ones without any hassle of even going out. Including images, videos and, quality graphics helps make a decision quickly and narrow down the choices.
2. Manage the Guest List
Managing the guest list is another headache while you plan a wedding. Yes, this is very true if you have selected an appropriately sized venue with limited catering. Who all you are going to invite? Although in the marriages, it is a tough decision to make as no important guest should be left uninvited.
Having an app makes it very easy for the clients to manage the guest list. It also allows you to manage the list by groups such as family, friends, or other relatives.
3. Connect you with Vendors
Connecting clients to the stores is an integral part of the application. Therefore, coupling it to the third-party vendor offers a one-stop solution for all the clients and their needs. So all the arrangements such as finding a DJ, photographs, bands, flowers are covered and clients can save a lot of time making lives much easier.
4. Registration for Gifts
The newly-wed couple is going to get a lot of presents on the day of their wedding so the inbuilt feature of registry of the gift is all that every guest needs. The gift may range from silverware to different appliances, toiletries, and much more.
This feature allows more and more people to download your application.
5. Keep Calendar Feature
It's crucial to keep a track of all the dates for the marriage functions and events. Everyone is busy and has tons of appointments and people to manage during this time. Integrating a calendar feature updates and reminds you of all the dates for the appointment and important tasks. It also helps your clients to stay updated and organized even during hectic times.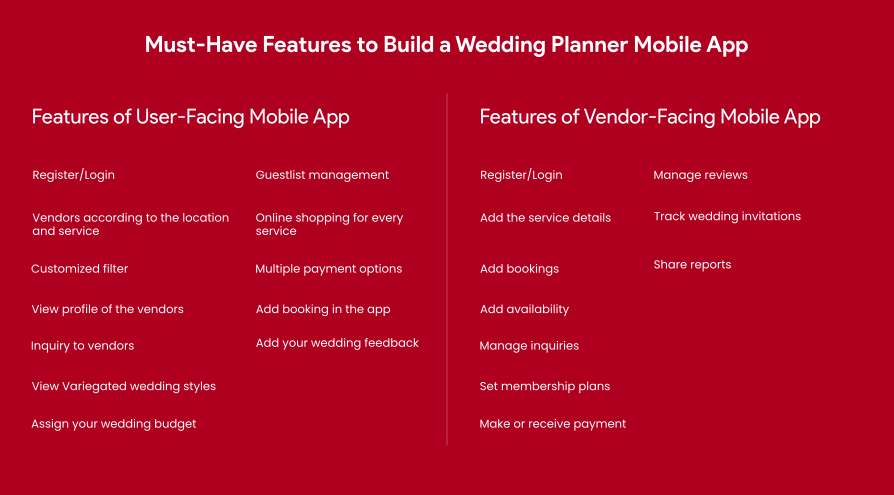 Advanced Features in a Wedding Planning App
1. Geo-Location Tracking
This feature allows the users to find the vendors near the location of the wedding venue, and, get them booked with a one-touch button.
2. Payment Integration
This feature allows the supplier or vendors to make or receive payments, while integrating multiple payment mechanisms such as Debit/Credit cards, Stripe, PayPal, and more. Also, you can integrate multi-currency modes that make the payment quicker and safer for the users.
3. Push Notifications
Push notifications have replaced the traditional mail options and, it allows the users to send constant alerts, reminders. Hence, it is very essential to develop an on-demand mobile application for wedding planners so that they stay alert about all the updates at any time.
4. Chatbot Integration
The feature uses machine learning technology that helps to motivate and engage users with ease of use.
Are You Looking To Create A Wedding Planner Mobile App?
How much does it cost to develop a wedding planning mobile app?
Various factors influence the cost of developing a Wedding Planning App. The factors that hold a significant place are the functionalities, its features, and attributes.
Some of the features include:
On what platform you are developing an app

It's front-end and back-end development

UI/UX

Integrating customized features

Third-party APIs integration

Connectivity.

Complexity and time involved.
What do you think now? Yes, your wedding planning business needs a mobile app. It is the most convenient way of satisfying your clients and help them select the perfect venue for their wedding.
Are you a wedding planner but don't have a mobile application for your business, then it is the right time to consider and develop one with us?
Let us know the customized features and start the development process now!