Whether you want to order your favorite food or make online payments, the apps come to your rescue. Digital payments applications have gained acceptance and have made it easier for users to make payments without a card or cash.
During the pandemic, contactless deliveries and payments became the need of the hour, and the entrepreneurs started to invest in digital wallet app solutions. There is a lot of competition, and entering the market with old trends and features would be vague. You need to hire the best team of mobile app developers. Ensure to update it with all the latest technologies, trends, and challenges to stand still in the competition.
This blog has covered all the trends and challenges that help you retain in the market and earn better returns.
Global e-wallet market size and growth
With the emergence of the digital economy, there is a shift in the customer paradigm towards digital e-wallet apps and go cashless. Contactless payments are done through digital channels on the cloud or digital wallets.
The global market will grow by USD 2.1 trillion with a CAGR of 15% by the end of 2023.
NFC (Near Field Communication) registered a 20% growth during 2020 and, by 2026, there is being more increase in the use of contactless payment because of the ease and simplicity.
By 2027, the mobile wallet market will reach USD 7,580.1 trillion from USD 1,043 trillion with a 28.2% CAGR.
The graph shows the mobile wallet transactions worldwide from 2020 to 2025.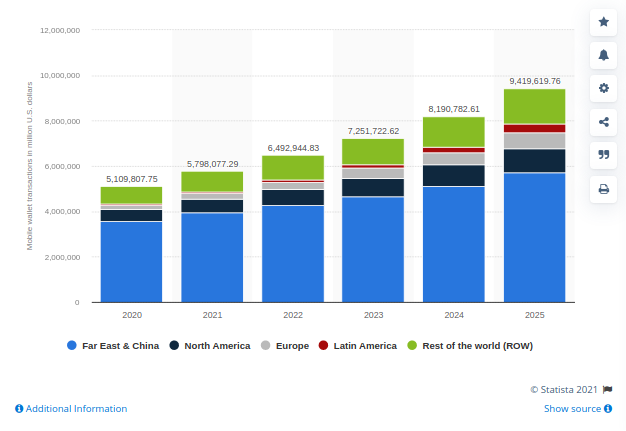 Types of e-wallets
When we talk about types of e-wallet applications, the market has three categories. Let us discuss them all:
1. Closed
With the closed wallet, users can only make the payment to the issuer of the wallet. They can only make the transactions to their respective accounts. Reputed brands such as Myntra, Flipkart have their e-wallet.
2. Semi-closed
These kinds of wallet apps are for making both online and offline transactions. It does not allow cash withdrawal or any redemption. A single e-wallet application helps to make various payments.
The famous names of the semi-closed e-wallet include Apple Pay, Amazon Pay, PayTM, and more.
3. Open e-wallets
Open wallets are for making payments for the services and goods you buy. It includes financial investment, fund transfer, cash withdrawal. M-Pesa is a well-known example of an e-wallet launched in different countries.

Top Challenges faced by e-wallet development companies
Developing a robust and secure e-wallet application poses many challenges because developing a fintech app is a serious matter. We have a team of expert developers that helps to tackle all the challenges and offers an opportunity to build a reliable solution over time.
Let us talk about the challenges, the solutions, and what all opportunities the application brings with them:
1. Use of right technology for a perfect delivery
Developing an e-wallet app that is secure and reliable is not an easy task and requires an experienced team of developers. A company that understands and makes the use of technology helps to offer you the most scalable solutions. Therefore, you must focus on selecting an organization with relevant experience and guides you properly towards making an application that works seamlessly.
2. Regulatory compliance need
The mobile wallet applications require the permission of government jurisdiction before they develop an app. The fintech apps there are strict compliances and are abide by regulations. Even if there is a minor drift in these compliances, the app owner may face judicial issues.
3. Fraud risk
It is one of the main reasons why users fear the use of mobile wallet applications. People still have the perception that contactless payment may present them with unknown risks, fraud, data leakage, hacking, and other e-wallet vulnerabilities. With the right technology, our team can help you develop a safe and secure app and aids to stop financial breaches.
4. Lack of trust
As per research from You Gov, almost 43% of mobile users have trust issues with third-party wallet apps. Yes, this is the mindset of the customers, and they feel it is not safe. They always doubt, if the transaction goes unsuccessful, they may end up losing their hard-earned money.
Future trends of e-wallet app development
Technology continues to change our lives, and digital wallet future trends are one of them. Here, we will discuss all the top future trends in the e-wallet app development segment.
1. Biometric Authentication
Using biometric authentication before making the payment can be via fingerprint or face recognition. As cybersecurity, theft and fraud continue to grow. Integrating biometric authentication minimizes security issues.
It makes use of fingerprint scanning, facial recognition rather than a password. It poses a strong security challenge, making it difficult to commit a crime. As per a report from biometric Update.com, around 2.5 million biometric payment cards will be issued in 2021. It makes the payment safer!
2. Usage of QR codes
As online transactions are made regularly, so you can not distribute your contact number to everyone. With QR code scanning, life has turned much simpler. With these unique codes, the other person scans, and you can transfer the money. The process reduces the error scope and is much safer.
3. NFC Payments
This trend has brought the world through a storm. It helps to complete the payment by simply tapping the card and will the traditional Pincode method. It allows you to make a safer money transaction. As per a report, around 36% of payments would be via NFC.
4. AI and ML Powered Wallets
Artificial Intelligence and Machine Learning are the most crucial aspects of technology. When you integrate them into your business, you can prevent cyber frauds and crimes. Also, the technology helps to detect threats before the crime occurs. AI and ML are the key players that would prevent fraud in the coming years.
5. Boost International Remittance
Many people wish for a safe transaction internationally, with the best exchange rate and minimum charges. So for those, it is a boon and helps users make a secure and quick international money transfer.

Summing-it up!
Are you looking forward to developing an e-wallet application, considering the latest trends and challenges? Hire an experienced team of developers with OZVID and achieve all your goals. We are the best choice for technology services in fintech and any other domain!