Gone are the traditional days when every second you need to ask an outsider about the route to reach your destination. And it is all because of the technology transformation and navigation tools.
Whether you are looking to find a route for a hotel, hospital, salon, or any other location - navigation apps are used by everyone to reach any destination. Navigation tools have entirely changed the way of locating the places and have made it easy to reach anywhere in no time.
Well, talking about the benefits of these applications, there are two tools Apple Maps and Google Maps, and the battle between these two continue since the launch of Apple Maps in 2012.
Here is a blog that compares the two platforms based on the features and other categories that help you decide what to choose!

Talking about the popularity via statistics
Google Maps were launched in 2005, since the dawn of smartphones. Whereas, Apple launched the maps in 2012, but gained consistent popularity. But what are the outcomes, let us discuss them based on a few statistics!

Google Maps Popularity
Google Maps is one of the most prominent navigation applications in the United States, and surpassed 23 million downloads in 2020 itself.

Google Maps has an approx 15.4 million monthly users.

Waze was another app, followed by Google Maps, with 11.5 million downloads in the examined period.

More than 5 million live websites prefer using Google Maps.

Google Maps users contribute 20+ million of information daily.
Google Maps dominates the other navigation and GPS apps, and here is a graph representing the same.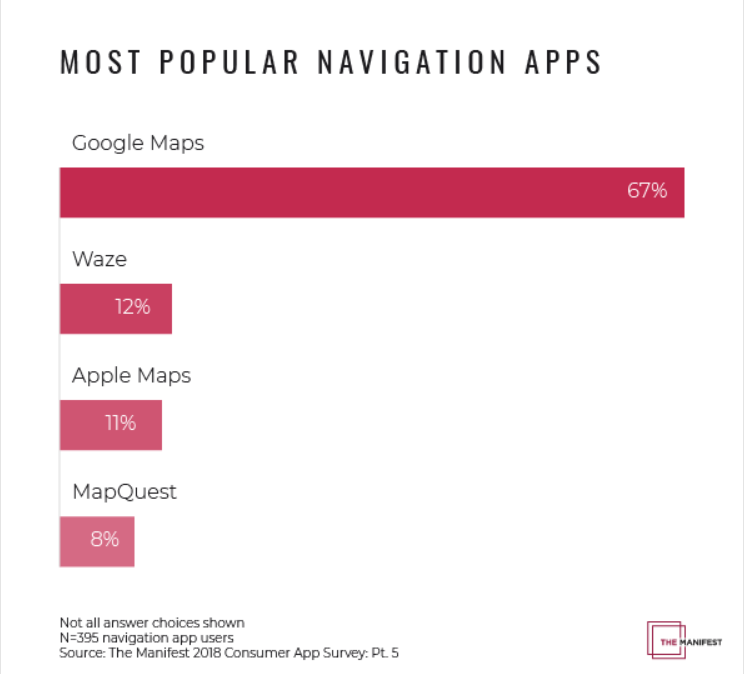 Apple Maps Popularity
With the new iOS update, Apple Maps continue to add the features and covers 3.1% of the navigation users in the United States.

Apple has expanded to almost every country, and Apple saw a penetration of 67.6% In 2021.

To facilitate a better user experience, Apple Maps offers features like Favourites, CarPlay, Collection, and more.
Latest Updates for the Google and Apple Maps
Apple Maps
Apple Maps offers an unbelievable experience with the integration of the best features. Let us examine the new updates and the features.
1. Apple Redesign
With the iOS 15 updates, there are more precise results and clarification and turn-by-turn driving direction. The app uses the Map Engine created by Apple and gives a clear perspective about the road accident, traffic, footpath, construction with a glance as soon as you see your phone screen.
2. Detecting Hazards and Traffic conditions is easy
Earlier in the Apple Maps, users could review the traffic conditions only by empowering the turn-by-turn direction. But since the launch of iOS 13 things changed drastically. It allows users to see the route ahead, just like in Google Maps. It makes it easier for the users to select the route and reach the destination on time.
3. Real-time transit schedule
Apple offers real-time transit and incorporates the ongoing travel schedule. It depicts beforehand the stoppages, arrival time and helps to convey a better route plan.
4. Enhanced Venue Navigation and ETA
With the improved maps, you can achieve your end goals instantly. Whether looking for a vast place or a specific building or location, you get precise information. Moreover, it offers ETA sharing that shares your arrival time with others.
5. Street View Check
It offers a superior view of the Street, just like Google Maps. You can see the exact and most precise pictures.

Google Maps
Many businesses prefer Google Maps, and here are the latest integrations that make it more dominant.
1. Music Streaming Integration
Woow, isn't it amazing! Google Maps integrates Spotify, easily allow users to listen to their favorite tracks while using the application. Enjoying the best music on the way to the destination gives a different vibe.
2. Google Assistant Integration
For the stopovers during your journey, Google Assistant is there for you. Whether you are looking for service stations, restaurants, or comfort stores, Google Assistant is an amazing AI assistant that makes your journey worth remembering.
3. Sharing Trip Progress
With the trip sharing feature, you can keep your family updated about the outing and its significance. Also, if you are running late, they will know the trip details. So there is no need for you to call them.

Comparison based on the features
1. Data accuracy
Google has plenty of focal points with the search listings. Whereas Apple takes it from Yelp, be it weather, channel, or more. In Apple, Siri offers mindful recommendations, but still, Google provides the most accurate and continuous updates.
Google Maps are used on every second device, whereas Apple is restricted to its hardware. Apple data pool is comparatively smaller. To further boost the accuracy, Google bought a satellite imaging company, Skybox. Google Maps is the most accurate mapping solution!
2. Platform
Apple Maps are only available for Apple hardware and devices including iPhones, iPads, and others. There is no availability for Android or other third-party devices.
Whereas Google Maps is a cross-platform service that is available for Android, iOS, and other cross-platforms. These apps are inbuilt on Android whereas, you can download them from App Store for iOS users.
Although Apple continues to raise the bar and has shown a progressive improvement, more users prefer Google Maps.
3. App Interface
Apple map rendition is flatter, and it adopts a reasonably cleaner look with small icons and text. The search bar lies at the bottom, and you can check the information at the top. It allows you to transit between the satellite, map, turn off/on traffic. If your vision is not up to the mark, it will be harder for you to follow it at first glance.
Google Maps looks brighter and has an eye-catchy appearance. The icons and texts are bigger and anyone can view them. Therefore, it is much easier to follow on the Google Map locations. Google has more options on the main screen and provides a clear picture of how the traffic impacts your commute.
4. Privacy
Well, talking about privacy, Apple makes a clear point and concentrates on privacy more than Google. Google continues to try and match up to the level of Apple privacy by introducing incognito mode that keeps your location and searches private.

The Future of Navigation Apps!
Yes, Google Maps is a far superior and accurate choice for navigation tools and applications. Google is coming out to offer unmatched performance and is a winner.
Building Location tracking apps is quite an intimidating process and requires an expert team of developers to work on it. If you are looking forward to developing a Google Maps Application, connect with us today and discuss your requirements!