No doubt that today the world is running over an automated platform, thus eliminating the manual operations. Isn't it? Thereby, we simply can't deny the fact that having an online presence for your business has become a necessity, then may it be via an app or a website, it is a must step. And if you are about to develop an app for your business, then choosing the right platform becomes the biggest dilemma.
Choosing either Android or iOS, both have their own benefits. It all depends on the required parameters you have for your business, and then choose the platform which best fulfils your requirements. However, here is a list of few highlights that why choosing the iOS platform for your app is a perfect decision.
As per the recent reports prepared by Apple, it was recorded that 81% of devices are using iOS 11 presently.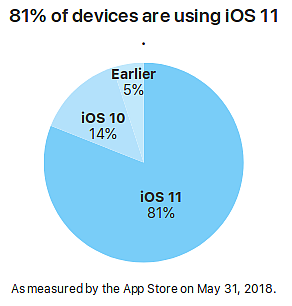 However, here is a list of few highlights that why choosing the iOS platform for your app is a perfect decision.
Benefits of choosing iOS for your app
App Quality: Regardless of the number of apps developed, iOS will lag behind the Android platform as there are an endless number of apps developed by android. But when we talk about the quality, iOS stands unique while delivering the fine quality apps which have no comparison with the android ones.
Carrier Data: Unlike android platform, which allows the smartphone to be overloaded with irrelevant third-party apps, Apple eliminates this concept and maintains the quality. Thereby, presenting no compromise with the quality of the app and doesn't permit any sort of carrier junk to affect the app.
User Experience: Fragmentation has been a major issue in the Android platform. As recorded, around 60% of iOS users are using the latest version, while its only 10%in cases of the android users. iOS thereby doesn't allow skinning and keep on encouraging its users to make the latest updates for a better experience.
Dynamic Icons: iOS has been successfully delivering quite attractive and pleasant icons for its users. These icons are designed in such a way that the user receives the notifications even without logging into the accounts. So, this becomes a plus point as compared to android platform.
App Listing: The Apple app store has a clear categorized list of all the apps managed systematically. In simple words, it will display the iPad and iPhone apps separately in the respective sections instead of showing it all together as done in android.
Power Management: One of the best parts of choosing iOS is that it offers you a better power management over android. Apple is repulsive to the third party apps which are running in the background and it doesn't even support LTE. Thereby, managing power properly in all respects.
All the above-mentioned features are just not all which iOS platform comprises of. But yes, if you are aware of these basic ones, you would definitely love to go for an iOS platform for your application. Isn't it? So, its high time that you look up for a suitable vendor which can offer the iOS app development services as per your requirements and defined budget. Don't hurry, take your time, look up for the perfect vendor and then begin with it.