When it comes to website development, several platforms are present to meet the requirements of a client but what makes PHP Web Development stand out is its robustness and versatility. We take immense pride in our team of experienced PHP developers who are full of ideas and strategies to meet your expectations and would provide you with a high-performance website. From a website for a startup company to a fully stacked multi-feature website for an MNC, our experts have gained proficiency in every domain of PHP development around the world in countries like the US, India, UK, and Kuwait.
OZVID Technologies extends to you a wide range of customized and tailor-made solutions in the field of PHP web development and web applications to meet your unique business goals. We are known for our efficient services and our PHP web development company has helped clients to get maximum ROI. No matter how impossible those ideas in your head seem to you, let us turn them into a reality in the form of a modern website.
PHP Web Development Services
Our team of PHP developers ensures a secure website with high-profile data safety. We integrate HTML5 and Flash-based web applications into core architecture for portal development.
We focus on the high maintenance of the website using the GIT repository. We imply high standard safety measures through advanced testing and strict inspection of the website. Our developers are constantly looking forward to implying advanced tools, modern technologies, and the newest coding methods to yield bugs-free websites. Our PHP web development services clients cover locations including the USA, UK, New Zealand, and Australia.
Our PHP Web Development Services include:
Web API
PHP Ecommerce
Automating Processes
Plugins
Web Portal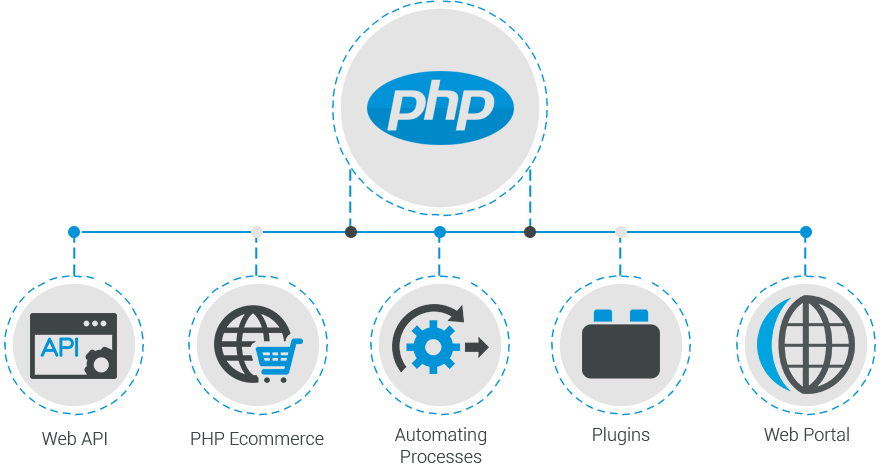 Why OZVID?
We are proficient in developing search engine-friendly websites and can insert inquiry forms and options for adding and editing more pages.

We work on the latest, trendiest versions and technologies for developing websites.

We also provide connectivity to various social networking sites like Facebook, and Twitter, on the website.

Our skilled team of web developers offers innovative designing and implementation services.

We have a provision for using licensed stock photo images and static HTML pages.

We provide you with unique design templates along with domain name registration.

You will have 24/7 support from us, and we will keep you updated at every step of the project.

We provide highly optimized graphics and migrate the website to the client URL.

We optimize your site for all the search engines like Google, Bing, etc.

We also provide services for web hosting at an additional cost.