Graphic Designing Services
In a world increasingly driven by visual content, businesses are constantly searching for the best way to stand out in a crowded field. Graphic designing is the art that creatively represents your marketing needs through innovative graphics. On one side where a site rich in content help viewers in finding their search results, audio-video content has an influencing effect on the audience and leaves a powerful impact on their mind.
A skilled team of graphic designers at OZVID Technologies offers the best graphic designing services across the USA, UK, India, and Dubai that provide thoughtful and effective graphic design solutions for businesses of all sizes. With years of expertise in the field of graphic design, we can provide your company with stunning graphic designs that help strengthen your corporate image across different communication channels. On one hand, a content-rich website offers the best search results, adding audiovisual content grabs more customer attention and leaves an influencing impact on viewers' minds. Our professional graphic designers create eye-catching designs for your site that speak words for your business.
We are an experienced graphic designing company where our professionals study the competition and evaluate how you can differentiate your company by adjusting your graphic design strategies. Our graphic designers add new life and give weight to your concept with knock-out graphic illustrations. Being a one-stop solution for all your graphics requirements, we ensure that our creativity is stressed on creating custom graphics that work to your advantage.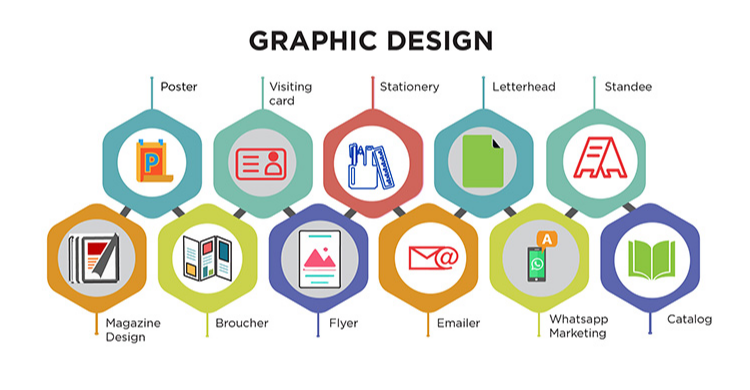 Wide Range of Graphic Designing Services
OZVID Technologies offerieng unique graphic designing services has a team of talented designers and developers, who works proficiently to create eye-catching designs for your site. Some of the best services we offer are:
Logo Design: Let your brand speak words for your business with its impactful logo design.

Infographics: Enhance the digital experience of your content by creating and delivering useful information about your brand with an attractive infographics design.

Web Banners: Catch your customer's attention and improve your ROI with professional web banners.

Business Cards: Express the essence of your business with customized and unique business cards.

Menus: Design an expressive and delightful menu to increase the appetite of your customers.
Why Hire Us?
Graphic design plays a vital role in implementing visual communication with the help of words, images, and symbols. It is powerful to represent and convey your business ideas and messages. OZVID Technologies is a leading graphic designing company having a team of creative artists who uses striking elements and colors to promote your business brand and enhance your business image. We are committed to our work and give you many reasons to choose us for availing of graphic designing services.
More than 1000 vector themes, fonts, and typography.
Produce effective and simple designs.
Proficiency of working in HTML, CSS, Photoshop, Corel Draw, and lots more.
Deliver the services before the deadline.
Affordable price.