We build everything a business needs, from training data to working with unstructured text, images, and videos for Machine Learning. OZVID works with a wide range of data analytics and artificial intelligence services to deliver client projects. Although our focus is on Artificial Intelligence and machine learning, we work on other latest technologies. Our Artificial Intelligence services in the UK, USA, Dubai, and India help drive the smart evolution of workflow and operations.

Our Artificial Intelligence Services: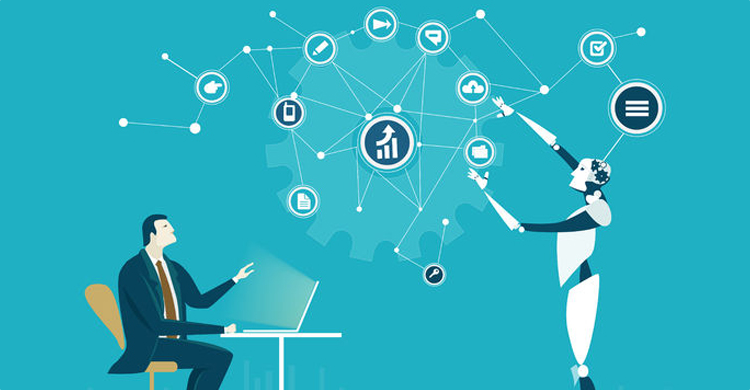 How does Artificial Intelligence help in your business growth?
1. New Revenue Opportunities
With Artificial Intelligence, organizations can check their customers' buying patterns while helping them make the right decisions.
2. Improved Businesses
It helps you stay competitive in the market, and helps you understand the market trend and insights leading to better business opportunities.
3. Services to a new level
Our Artificial Intelligence services in the USA, Dubai, and India offer a superior customer experience while using AI-based analysis to know what customers look for future.
4. Know your customers
Artificial Intelligence offers analytics and data. Businesses can make use of data and know their customers personally.
Gaining efficiency with advanced Artificial Intelligence Services
We are a team of experts who understand the business requirements, and help them train, test, and tune deep learning algorithms to behave more like humans. We have years of experience in offering the best Artificial Intelligence services and assisting businesses to meet their needs. Our comprehensive set of services includes:
1. Designing: We design easy-to-use AI models for advanced artificial intelligence solutions and fit them into the existing business models.
2. Development: We develop advanced artificial intelligence applications to uplift your business goals and attain profits.
3. Deployment: We deploy AI algorithms and machine learning models in a way that can deliver the utmost benefits to the customer.
4. Customization: We offer wide customized AI-based apps that can cater to unique customer requirements.
5. Integration: All our AI services are easy to integrate with the existing business models for all industries.
6. Strategy: We have a team of experts who can implement the right technology tools to receive better outputs
 
Improve your business analytics with OZVID Technologies
At OZVID Technologies, we train our team to annotate, collect, evaluate and translate any type of data in any language. It helps us deliver the outputs per the client's requirements and offer on-time project delivery. We have a team of experts who can thoroughly understand your business objectives and work on them accordingly. All our services are monitored by experts and experienced professionals.
Related Services
FAQs on Artificial Intelligence
What is Artificial Intelligence?
Artificial Intelligence is a simulation of the human brain. It encapsulates the range of machine learning, deep learning, and computer vision techniques that allow machines to mimic or exceed human intelligence.
What are all the Artificial Intelligence services you provide?
OZVID works with a wide range of data analytics and artificial intelligence services to deliver client projects. Our AI services include:
Deep Learning Services,

Computer Vision Services,

Machine Learning Services,

Chatbot Development Services,

Natural Language Processing Services.
What is a chatbot, and how does it help businesses?
Chatbots are computer programs that help machines conversate as humans (either written or spoken). Adding chatbots reduces overhead costs, saves time, and makes tasks easy. They can conversate and provide support 24x7.
What are the benefits of using Artificial Intelligence Services?
Artificial Intelligence Services help businesses in many ways.
Error reduction,

Automate customer interactions,

Work 24X7 without breaking,

Real-time and digital assistance,

Ethical development,

Faster and rapid innovation and many more.
How much does it cost to develop an AI solution?
The cost of an AI development project varies depending on the requirements, complexity, the number of engineers required in a team, expected output, training of the model, optimization, etc.
Why should I choose OZVID technologies for AI services?
Partnering with OZVID gives you benefits like:
High-quality services,

High accuracy and precise services,

Data confidentiality and security,

Experienced Artificial Intelligence professionals, and more.
We provide end-to-end Artificial Intelligence Services that help you grow your businesses worldwide.