Custom API Integration Services
With APIs, we can build rich customer-centric web applications to improve brand engagement, drive more revenue and deliver more meaningful digital experiences. We, at OZVID Technologies, offer custom API integration services in different locations including USA, UK, Dubai and India that help clients plan, execute, launch and market API-feed applications. Our work includes the development of data-rich web applications and web-based software for a wide range of industries. We develop frontend and backend applications that utilize rich data sets. Our skilled professionals offer custom web development services using APIs.
We build websites and web applications using API data feeds to increase customer engagement, and brand value and drive more revenue. We integrate appropriate technologies to empower businesses with engagement and transaction tools. Integrations include payment processors, ticketing systems, content syndication feeds, and APIs. We push the boundaries of this tight integration between design and technology, setting our clients apart in the marketplace. Our skilled developers also build robust, backend technologies to help enrich websites and web experiences.
To make a website more engaging, clients are interested in using owned or third-party APIs, as they offer enhanced productivity and better communication of two different platforms. Our team of professionals has expertise in the integration of API for existing and upcoming websites. We design and develop an advanced and tech conversant API Suite that provides high flexibility to the customers. Our API Suite support both SOAP and REST version via JSON and XML and is effective in data moving systems such as FTP.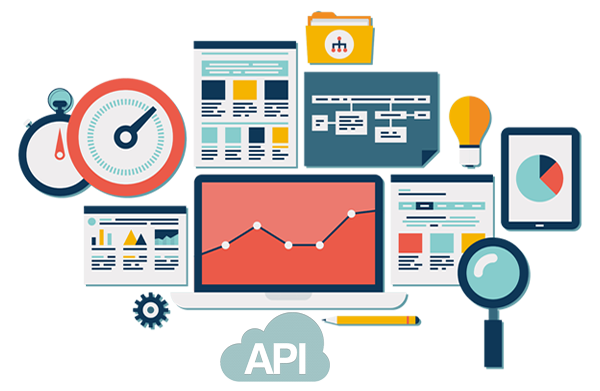 Our Custom API Integration Services, Includes
1. API Integration and Development Services
We offer expert API integration and development services while helping extend the functionality of your app with third-party systems.
2. Source code Repository Integration
Our custom API integration services in the UK, USA, Dubai, and India help you find the best source code repository integrations including GitHub and more.
3. API as a Service
We can help you build web APIs and API as a service using protocols that include XML, JSON, REST, and more.
4. API Development Platform
We help you create API for different platforms including mobile, cloud apps, desktops, databases, and others.
5. Custom Web API Solutions
We are a pioneer in offering custom Web API solutions in India and Dubai while using the best development tools for building high-end products.
 
Why Us?
We can implement the functionality of payment gateways, geolocation services, social networking communities, advertisement platforms, online shopping, video services, and many more.

We love transparency, which is why you are always kept in the loop and are charged not a penny more than the decided cost.

We have skilled professionals who have completed more than 300 web applications to date.

We facilitate the automation of various tasks to maintain everyday workflow actions.

We make the process of deployment and content management quicker and better.

We strive to improve the accuracy and efficiency of the business processes.

We offer budget-friendly quality projects as per client expectations.

We have timely delivery and a customer-focused approach.