Technology has made the world connected in the best possible way. Gone those days when people had to meet their special ones in cafés, malls, or parks. In the world of mobile phones, finding your perfect soul mate is no longer a tough job. Mobile applications offer huge opportunities for users to date online.
As per research from Statista, the growth of online dating apps is estimated to have a revenue of USD 1 billion by end of 2021 in the US only.
The dating app market is over saturated with so many popular applications such as Tinder, Bumble, Grindr, and many more. What makes them different from other apps on the App store are the features, functionalities the app offers. The pandemic has forced people to stay inside their houses, so that social distancing is maintained. Therefore, if you are planning to develop a dating application for your users, this blog is worth reading.
Dating Apps Market Trend and Stats
As per a report from Statista, 52.4% of the users using dating apps are men. And about 30% of the users are between the ages of 18 to 29 years. Here is a graph for the same.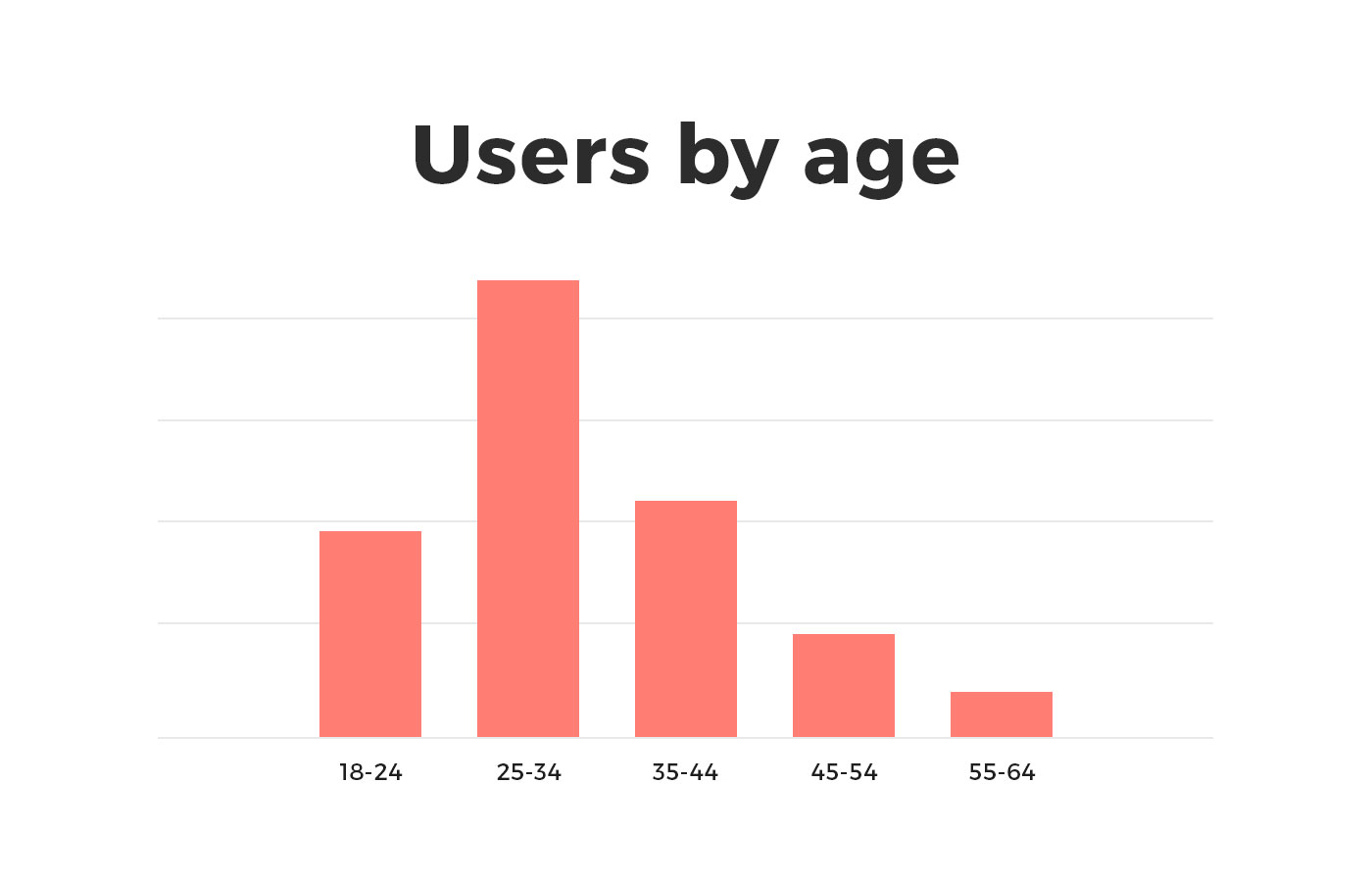 Here are a few more Stats from the US market:
Around 1.6 billion swipes per day take place on Tinder.
More than 20% of the couples in the US met via dating applications
The online dating industry revenue is around $1.8 billion.
More than 17% of the users engage with someone they meet on a dating service.
Types of Dating Apps
To build a successful dating app, the owner must have a clear idea of which categories are the most popular and why they should choose one.
1. Geo-location Based
These apps are built based on geolocation. The user matches with the other based on the location proximity. The user can choose the distance as per their preference. Popular applications such as Tinder and Bumble operate similarly.
2. Matching Algorithm Based
These are some offline match-making services where the users have to choose based on personal survey information.
3. Niche Based
These kinds of applications only target a specific group of people. One of the best examples is for the illustration League. It is an online app platform that only allows a specific group of people to list themselves based on their qualification and career. This way the people can find soul mates as per their preference and within their circle.
Why creating a Dating App is a smart decision?
Since the launch of these applications, they have gained huge popularity. Not only it helps to save the time of users but offers one of the most efficient and easy ways of finding a perfect soul mate. Here are a few of the benefits offered by dating applications your business gets.
1. Offers High User Retention
The popularity of on-demand applications for dating continues to increase as it offers the best alternative for the users to meet their soul mate. As per research, the time a user spends on dating applications is more than 90 minutes. So developing such apps with advanced features helps in user retention.
2. Offers Great Monetization Offers
These apps are in huge demand and therefore cover a lot of monetization strategies. The monetization methods include in-app purchases, subscription-based, an in-app advertisement that keeps the app owner motivated and the demand increases. As per research, more than 20% of users go for paid methods which are quite rated.
3. High Revenue
These applications offer app owners to generate a high amount of revenue. As per a report from Statista, Tinder makes around $800 million within total match group revenue of 1.72 billion.
4. Enhanced User Base
Millennials or the young generation, it is not surprising that these apps are liked by all the users. The user penetration of such apps has reached 3.0% and is expected to reach 3.6% by 2023.
Monetization Methods of Dating App

1. Subscription Based
With this monetization method, the users have to buy a subscription plan to enjoy the benefits of all the advanced features offered by the app. The basic features can be availed by any user, but the advanced features are for subscription-based users only.
2. In-app Advertisement
With this, the third parties can add their services in the form of advertisements. The app owner is paid for every click by the users. This offers a great way for the users to boost up their earnings.
3. In-app Purchase
The app can offer a different kind of emoji to the users so that they can buy by paying an extra dollar or so. As soon as the user purchases such emoji they are notified about the same.
Why dating apps are beneficial?

1. Fast and Beneficial
These apps are quick, the users get quick access to their accounts and find their soulmate anytime, anywhere.
2. Best for Introverts and Busy People
Some people want to make friends but because of their busy schedules, they do not have time to visit different locations. Also, some people can't communicate face to face and lack communication skills. These apps become crucial for such users.
3. Avoid Unwanted Connections
It is crucial for users at both ends to like or swipe their photos to start a conversation. So the app allows users to avoid unwanted connections with ease.
Essential features to consider for Dating App Development


1. Signup/Login
This feature includes the first step that the user needs to complete. Sign-up should be easy for the users via email, contact number, or via social media such as Facebook or Google Accounts.
2. User Profile
This is the next very crucial feature where the users can create and set up their profile that should contain a view profile, edit profile, add images, add a bio, buy credits, and much more.
3. Find Matches
When people look out for relation, they tend to find someone without any hassle and the people nearby their location. The app offers such an opportunity for the users to find a suitable match while using the integrated GPS feature.
4. Push Notifications
It helps to engage your users through push, email, and other notifications.
5. Private chat/ Call
The app should offer integrated chat and call options for the users, as it is one of the most convenient features and should not be taken for granted.
6. Optimize Geolocation
It is the most important factor of such applications. It helps to automatically start showing the snapshots of users based in a neighboring location.
7. Social Shares
The user should be able to link their social network profiles with dating apps and enable instant sharing of stuff with potential candidates.
8. Swiping
It depends upon the user experience. If the user likes the person they can swipe right and if not they can swipe left. It is the fastest and most convenient way of browsing potential matches.
How much will you have to spend to develop such an app?
To develop a dating application, there should be proper planning in terms of budget. For the same, the cost of developing a dating app depends on several factors that include:
Type and number of platforms

App Design Complexity
Development Approach
Number of hours and location
Number and complexity of features
As per our developers, they need around 3-5 months to develop a dating application and the first version of the application costs around $60,000. The cost may vary depending on the number of other factors and features you integrate into your application.
Final Thoughts
We hope the blog offered you all the necessary information that was needed to develop an on-demand dating application. Keeping the competition in mind, it becomes vital to develop a unique app, attract the right audience, and lets you achieve the right revenue.
At OZVID, we know how to create a dating app that will meet your requirements and objectives. Get in touch to discuss your concept!