The traditional days were struggling. People had to stand in long queues to get their work accomplished. But thanks to the advancement of technology and on-demand apps!
Whether it is food ordering or booking a ticket for your favorite movie, on-demand apps offer comfort and ease to users. The ticket booking apps are flooding the market, and under no circumstances does it seem to slow down.
As more customers now demand ease, comfort, and hassle-free operations, automation in the ticket booking apps offers benefits to both the customers and the theatres. In brief, online movie ticket booking apps are gaining popularity and have pioneered the way we were booking tickets.
It has become much easier for users to book a ticket ahead of time and enjoy quality time. Therefore, entrepreneurs are now investing in the development of movie ticket-booking apps and boosting their businesses.
At OZVID, we have vast experience developing on-demand movie booking apps and what it takes to build such a platform. So, let's cover all the insights about how to develop a Movie Ticket Booking Platform in the article.
Why are movie ticket booking apps gaining popularity?
A report from Grand View Research states that the online movie ticket booking app was valued at $17.98 billion in 2018 and will increase at a CAGR of 6.5% between 2019 and 2025. The stats show the amount of revenue generated by movie ticket booking applications.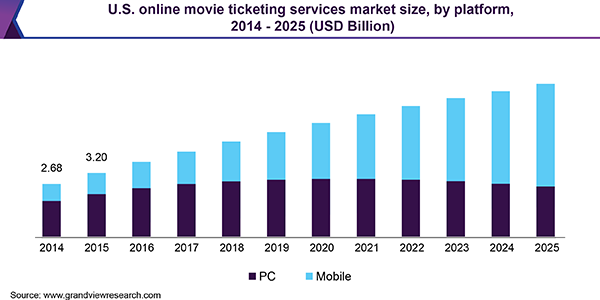 The lifestyle of the people continues to change. They don't prefer standing in queues and waiting for several minutes to buy a movie ticket. They need information and services on the go with the tap of their phones. The ticket booking applications streamline and allow people to choose the location, movie taste, timings, preferred seats, and digital payment options. The mobile application provides real-time solutions that users require.
A Movie Ticket Booking Platform like BookMyShow is a popular online ticket booking platform and attained 30 million+ downloads, 3 billion+ page views every month, and 10 million+ ticket bookings each month. Many other ticket-booking platforms offer a competitive edge and continue to enhance the user experience.
As these applications are growing exponentially, businesses are now planning to invest in such apps.
Here is what the movie ticket booking app offers you:
Booking of Movie Tickets

Booking of concerts/ music festivals or events

Booking of Sports Events
The business model of Movie Ticket booking apps
1. Advertising and Promotions
2. Commission
3. Merchandise Distribution
4. Money from Event Management

Benefits of Online Movie Ticket Booking Systems
1. Ease of Ticket Booking
The users don't need to come before the cinemas to book their tickets. All they can do is book their ticket via the application at their time and convenience. The apps offer ease, and customers can enjoy the show.
2. Locating the closest theatre
Users no longer have to move and travel to faraway theatres as the app displays all the nearest locations where the event and movie are running.
3. Select from Multiplexes to Single Screens
The users can avoid disappointment. They can select from multiple or single screens and know whether there are seats available or not.
4. Reservation Anytime
When the customers get the online booking portal in place, your business is available round the clock. Users can book slots and different events or movies whenever they want. It boosts sales in no time.

Must-have features for the Online Movie Ticket booking app
To integrate the best features, you should consult a top-rated mobile app development company. Experienced professionals have in-depth knowledge of app development and its essential features.
Let's quickly cover all the crucial features your app must have:
1. Registration and Log-in
With all the details like name, email, and phone number, a user can register themselves. The registration should be simple, and you must not add any complicated columns. The users can register via social media accounts including their Facebook, LinkedIn, etc.
2. Location
It is another essential feature that helps track the location of the users. With this feature, users can find and locate nearby cinemas. However, the app must ask for permission to access the location from the user.
3. Home
The home screen is the most vital component that displays the list of events and shows. So, while developing an online ticket booking application, you can offer a unique and improved UI/UX for a better user experience.
Splitting the home screen based on different events and movies is essential. Also, advanced filter addition is crucial.
4. Show Listing
The feature allows the users to view the list of shows, categories, languages, timings, offers, venues, and prices.
5. Show Details
Once the user selects their desired show or movie, they can dig deeper and know other show details. It includes banner image, ratings, language, Star cast Name, & image, Format 2D/3D, Duration, Date & time, and more.
6. Show Booking
The user can tap the book ticket icon in the application to book their show. Also, they can choose the showtime as per their preferences. They can pick the seat at their convenience and for enjoyment.
8. Ticket Split
Improving the overall user experience is another feature. It allows the users to split the share among their friends.
Suppose you went with a group of friends and want to split the movie feature. With this feature, you can do that!
9. Digital Payment
With this feature, users can make payments online via different channels. The mode of payment includes credit/debit cards, PayPal, and other third-party payment options.
10. Ratings and Reviews
Users should have permission to give ratings and feedback for the show they have watched. It helps other users know about their experience, the storyline, and whether they should spend their quality time watching the show or not.

Cost of App Development for Ticket Booking Platform
Developing a Movie Ticket Booking platform cost varies from platform to platform. iOS and Android are the leading app development platform. Still, android app development costs more than iOS, as you need to test the app against many devices.
1. Platform
The Android platform is cost-efficient for app development compared to the iOS system. However, to reach a larger audience, you must consider developing an app on both of these platforms.
2. Design
Hiring an experienced team of developers who can offer an attractive and user-friendly interface is a must to retain customers.
3. Features
As you continue to add more features, you will have to pay extra. The MVP development is comparatively more cost-effective than the feature-rich application.
4. Developers
The location and experience of the developer team also impact the cost. A high-cost team does not ensure a quality product.
Winding-up!
There is no doubt that movie ticket booking platforms have gained popularity in a limited time and offer convenience and ease to users. The mentioned features are essential you must take care of and add to your ticket booking application. And if you decide on it carefully, your app would have a higher ROI.
What matters here is, hiring an experienced development company that has on-hand experience in developing such applications and making a difference. OZVID has a team of expert developers offering simple to most complex solutions to build a movie ticket booking app at affordable prices. Contact us now!