Mobile application is the perfect reciprocity of comfort and ease. Every user has around 20 mobile applications installed on their mobile phones, and we can not imagine a life without these applications.
Whether it is about ordering food, entertainment, or shopping, people rely on these applications to make their lives easier. Every individual looks for a trending mobile application with the best features and gets a lot of appreciation.
What makes people stick to some mobile applications only, and there are some which remain non-downloaded on the Google or App Store? A great answer to this question could be looking at the best mobile applications on the market and the features these apps offer that make them a user's first choice.
Here is a blog that covers all the apps users love in 2022 and has gained great popularity.

Users are spending a lot of their time on Mobile Apps!
Whether you are a new business entrepreneur looking forward to developing your mobile application or an established business, mobile app development is what you need. There is a significant rise in mobile applications, and it has been solving the business problems and leading to its expansion.
As the market is ever-growing and the consumer preferences changes with the technology advancement, mobile applications are helping businesses reach more customers and gain visibility throughout the period. As per research by online magazine eMarketer, the average US adult spends an average of 2 hours and 54 minutes on their phones each day. Here is an image that depicts the growth of smartphone users.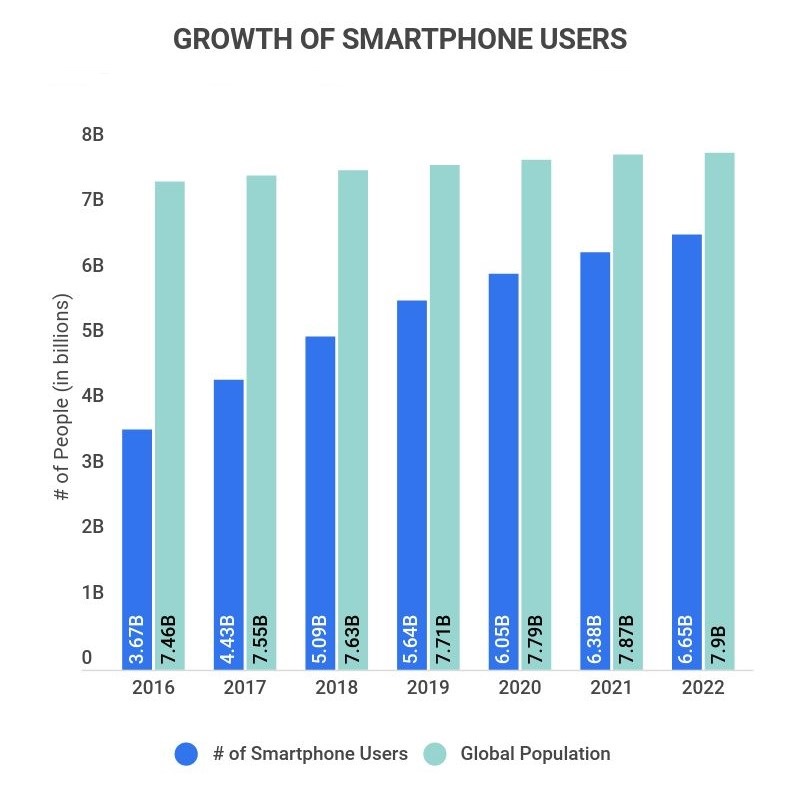 An overview of the most downloaded apps of 2022 globally
To develop a mobile app that stands out in the crowd and among competitors, you must know to see from the customer's perspective and see what they want. Take a look at some of the amazing and trending mobile applications and what they have been doing so far!
1. TikTok
Tik-Tok is a video-sharing social media platform owned by Byte. As per Store Intelligence data for the Q1 2022 report, TikTok was downloaded more than 175 million times from Jan 1 through March 31, 2022.
TikTok even surpassed Instagram and has changed the world forever. The platform helps many bloggers and talented artists to showcase their talent with highly creative short videos. A few of the points users loved about the platform are - the highly effective algorithm, automatic filters, and duet features for the users.
2. Instagram
Instagram is one of the most sensational mobile applications that has influenced almost every generation. It allows you to create videos, take pictures, use hashtags and post your content on the Internet. With a username itself, people can check out any user or stalk your favorite celebrity.
The first version of Instagram came in 2010, and later it was purchased by Facebook. With the continuous addition of amazing features, there is a boost in the overall audience every year. Instagram is truly one of the most powerful channels that helps people advertise from anything to everything, and reach goals! The stories feature, in-app video, and shopping are a few features that became very popular.
3. Facebook
Facebook was founded in 2004 and is a platform that connects you with your friends, family, colleagues, and other people you may know. With the changing trends, the app brings amazing functionalities and is one of the reasons for its popularity. Whether people look out for videos, pictures, news, and other feed, Facebook offers it all.
4. Snapchat
Snapchat did not gain popularity at the very beginning and can be seen as quite odd for the first time you would see it. It may be difficult for some to understand the app at the beginning. But still becomes the most loved application by the younger generation. The mesmerizing filters and other functionalities make it a popular application. Moreover, Snapchat has this feature that allows you to send videos that disappear within a span. Therefore, since 2011, the application has been one of the most popular entertainment applications.
5. Uber
Although the platform now possesses plenty of competitors, Uber is still one of the leading ride-sharing platforms that you can find on almost everyone's phone without any age limitation. Uber continues to dominate the US market and has 71% of the market share.
But what made Uber made so popular? Well, it was the first ride-sharing platform that offer users the ease to travel anywhere at affordable prices. The app is user-friendly and offers the best experience to them. A few things that users love about the platform include - excellent GPS integration, seamless payments, and price calculation beforehand.
6. Netflix
Netflix is among the most popular streaming platform where users can experience streaming of their favorite TV shows and movies on their mobile devices. Netflix offers its users a free subscription for one month and pays for the other if they liked their services.
Netflix continues to offer new and fresh content to the users to keep them entertained. It includes an inventory of films and acclaimed movie shows across different genres. The amazing features that Netflix differentiates itself from its competitors include -movie or series suggestions, offline viewing, and parental control.
7. Amazon
When we talk about the largest tech giants in the eCommerce industry, nothing is better than Amazon. Amazon is not only an eCommerce platform but also leading digital streaming, cloud computing, e-commerce platform, and more. Amazon has amazing features that make product buying, selling, and returning around the world easier.
8. Zomato
Zomato is a popular food delivery application and is among the most successful that helps users discover all the nearby restaurants and order meals as per their preferences. The platform delivers a meal for the user's location, and it also allows them to check the menus of the different restaurants so that they can eat out.
Zomato has even started delivering groceries to people's doorsteps, making their lives easy. It has an inbuilt payment system that offers ease to the users.

Time for the businesses to invest in Mobile App Development!
There is no doubt that mobile apps are gaining popularity, which makes their presence a necessity. The best mobile applications must have a simple user interface and quick access to customer support.
Are you looking forward to developing a similar application and gaining popularity in the market? We are here for you! Let's collaborate and get a seamless and intuitive application that will take your business to new heights. Still, have queries? Our experts will connect with you and resolve all your queries!