Ever since the pandemic, retailers have witnessed the potential of digitalization and eCommerce. The traditional brick-and-mortar stores are now replaced by eCommerce and growing at an incredible rate.
In 2021, eCommerce sales were $870 billion in the USA. In 2021, a 14% increase over 2020. Moreover, in 2021, retail eCommerce sales were around 4.9 trillion US dollars worldwide, and the figure will reach 7.4 billion by 2025.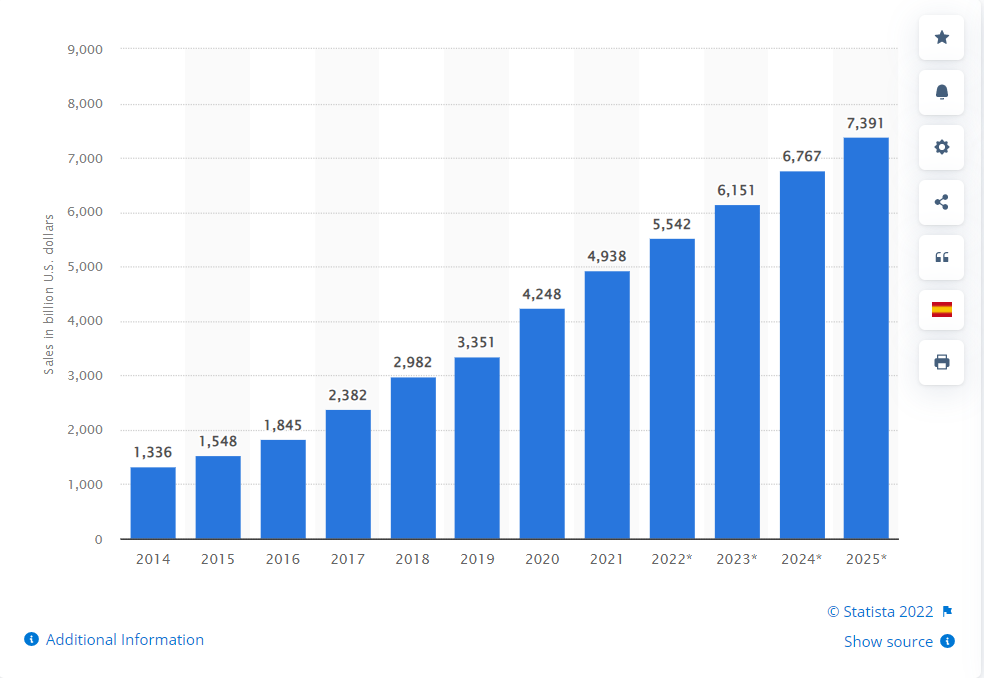 However, as an eCommerce business owner, there are plenty of challenges businesses face with advancements in technologies. Business owners have rules and regulations to follow, including security, seamless customer experience, fulfilling customer expectations, and more.
Business leaders must address all these core challenges to help them achieve a competitive edge in the market. Here is a blog that would help e-Commerce businesses achieve heights!
eCommerce Sector: Silver Lining towards taking a hit
While the retailers are taking a hit, shifting the paradigm toward digitalization is a quite challenging task for businesses. People are now showing more interest in online purchases, and Google searches have also doubled.
95% of the purchase will be done online by 2040. And therefore, it is the right time for the retailers to make a switch, face the eCommerce challenges and find the appropriate solutions.
eCommerce Challenges business faces and the right solutions
Businesses around the globe face many eCommerce challenges. Throwing some light on the most crucial challenges with the right solutions.
1. Higher and booming customer expectations
Customer experience is a top-notch business priority, and that helps businesses to build a robust brand reputation. More than the price and brand, customer experience is the foremost priority in a competitive market.
Yes, in the era where e-commerce platforms like Amazon, Myntra, and others dominate the market, it becomes difficult for startups and other businesses to offer an edge. A report says that around 86% of the buyers pay an extra amount to leverage a better and enhanced customer experience. One of the reasons why an eCommerce business fails to impress is a smooth and amazing customer experience!
The ultimate solution to this challenge, brands must analyze the latest trends and focus on delivering personalized services to the users.
2. Delivering omnichannel customer experience
Customers nowadays prefer ease and want everything direct on their screens. One such challenge retailers face is the omnichannel experience. Customers prefer different touchpoints like websites, applications, pages, social media, and more that help them reach you easily via any mode.
If your business can not offer a retail omnichannel experience, you are left behind. To create an omnichannel strategy, you must focus on the customer needs and implement the right strategies.
3. Strong eCommerce Data Security
Businesses must focus on security breaches, which is one of the biggest threats. Hackers are threatening businesses and attacking their host servers, looting their confidential information, and introducing viruses.
Moreover, when businesses pay online, they enter their card information and other details. The sensitive information, if leaked, can have an impact on the customers, and it can damage the brand's reputation too.
Switching to HTTPS protocol, using third-party secure payment gateways, and Payment card industry data security standards can help protect your customers and business data.
4. Customer Trust and Retention
Building a loyal customer base is a top-notch priority for businesses, and when you can do that, you can retain them. Customer loyalty is the most crucial aspect of the business's success, and even a small hitch can destroy your brand's reputation.
Most businesses do not consider it a top priority and end up losing their customers and business losses. Retaining a customer is about a steady and rewarding relationship with the employees.
5. Voice-Enabled Search
Voice-enabled research has massive popularity as the products in the market continue to rise. The technology offers ease to the users, and they easily search for the products and get a resolution to their query without having to type anything. As most people are busy in their kitchens, driving, or performing other activities, they make a query via voice search.
Businesses must ensure to integrate the latest technologies, including voice search for the exponential growth of their business, and voice search is one of the crucial ones. To attract more customers, businesses must perform keyword optimization that will bring more leads.
6. Turning relevant leads to customers
Driving the relevant leads and converting them into potential customers is the key that would help your business grow. While attaining good traffic can be easily achieved by promotion efforts and marketing leads, getting the relevant leads is a challenge. Businesses fail to communicate the right message to the customers and therefore are unable to reach their targeted audience!
With efficient marketing and search engine optimization, PPC ads will help deliver the right message to the customers and will help convert leads to customers.
Turning eCommerce challenges into opportunities!
Amongst the giant competitors, newbies strive with fierce market competition and must focus on planning outstanding strategies. Before launching a platform, ensure to communicate all the challenges, and your developers must be able to provide you with an appropriate solution for every challenge!
OZVID is one of the best e-commerce app development company, that can solve all the problems business faces. Reach out to us for more details!