In 2020, the global pandemic severely impacted every industry in the market, changing the whole course of the food industry. The dine-in culture slowed down unexpectedly, which affected the whole food industry.
According to the National Restaurant Association of India, 53 percent of restaurants shut down in 2020-21. Between all this, cloud kitchen picked up the market gap and gained momentum, rising exponentially.
With that, people are getting more inclined towards online food services that can deliver affordable, nutritious meals to their doorsteps. With that, the cloud kitchen concept has no stoppage and will continue to rise exponentially.
The online food delivery market will grow with a revenue of 16.6% by 2022. Moreover, as per a survey conducted, 67% of restaurant owners want to open a cloud kitchen as their next outlet.
Cloud kitchen uses different business models, and they successfully captured the attention of entrepreneurs and the food market.
Let's dig deeper into the concept of a cloud kitchen and learn its benefits, different business model, and a lot more.
What is Cloud Kitchen?
Cloud kitchens are quite different from the brick and mortar restaurants and offer a different experience to the customers. Also known as ghost kitchens, the kitchen uses very little space and does not offer dine-in for the customers. The food is prepared in the kitchen and delivered to the respective customer location.
Multiple brands such as Papa John's, Faasos, and Right Bite are generating revenue operating via cloud kitchen. The kitchens turn into on-demand food delivery, and the customers do not have to visit the restaurants. These are commercial facilities that provide food deliveries.
The graph shows the global cloud kitchen market and its expansion.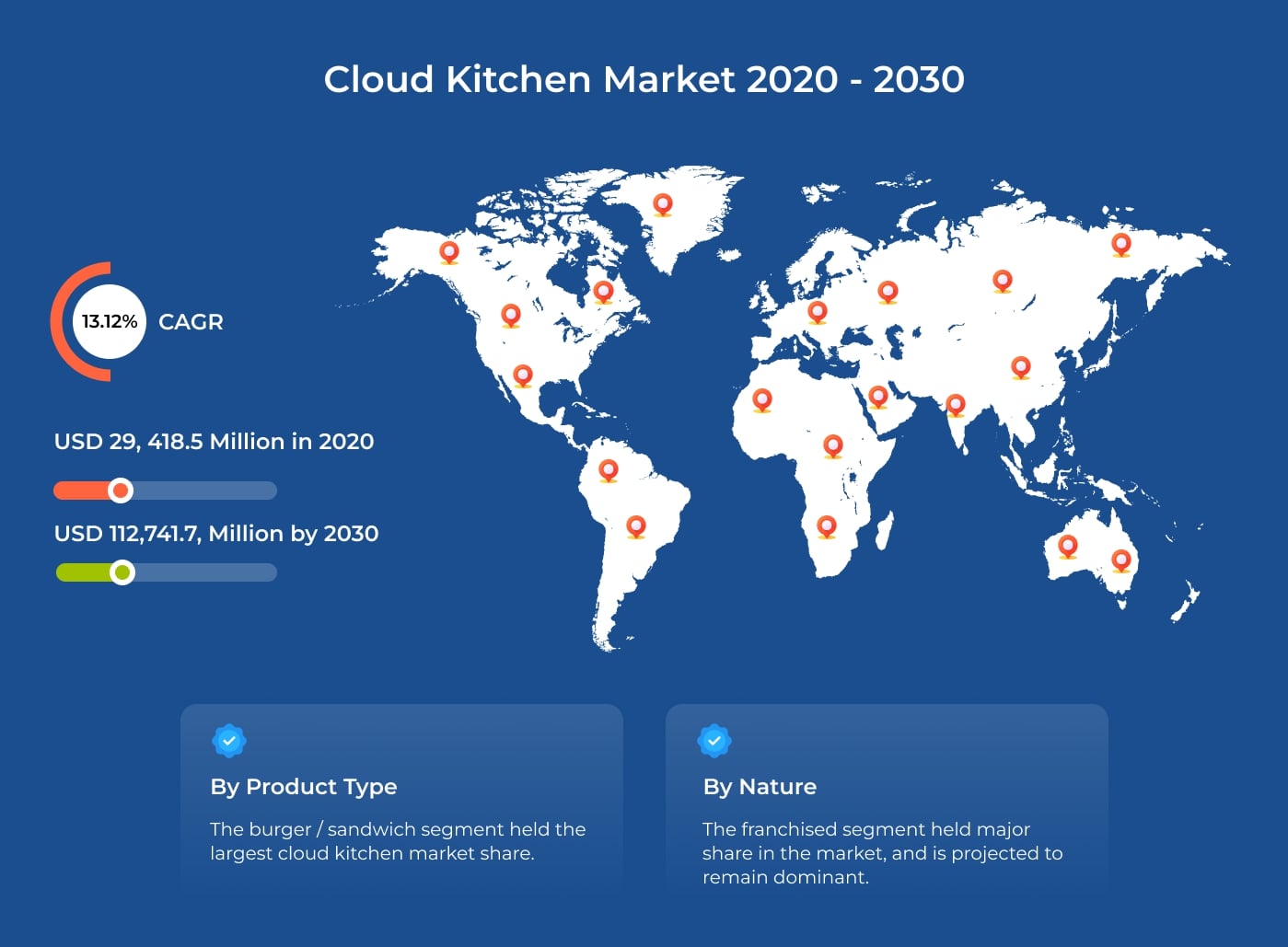 What makes Cloud Kitchen successful?
Now the question arises, why does the cloud kitchen show continuous expansion? Apart from cost-cutting, there are many other benefits it offers. Let us find out all:
1. Offers more Hygiene
It is one of the top reasons for the expansion of these services. Since the pandemic, people are concerned about their health and hygiene, therefore prefer contactless delivery with safety measures.
People became more aware of and to prevent the spread of infection, ordering food online rather than visiting restaurants. Platforms like Swiggy and Zomato ensure hygiene and follows all the parameters to deliver the order safely.
Cloud kitchens have limited access to people, follow sanitization standards, and became one of the top choices among customers.
2. Saves cost on the property
Opening a cloud kitchen is one of the most cost-effective deals. There is no investment on the property, no electricity bills payment, and no employee salaries that ultimately help save a lot.
Yes, with cloud kitchens, businesses can save plenty of money on their ventures. They have to set up a commercial kitchen and link it to online food delivery applications. So no matter, if you are a startup or have a limited budget, setting up a cloud kitchen, will help you generate higher profits.
3. Prompt Service
Cloud kitchens can offer prompt services to users. As the online food industry has a better network than the single restaurant, they can provide quality and quick services to the users. Cloud kitchens can directly sync with online apps and get their orders. It reduces the worry about on-time delivery and reduces the overall cost.
As the business continues to get a higher demand, customer service also tends to get better. The customers having any queries can be resolved and handled effectively.
4. Offers Expansion opportunity
Business expansion is one of the main factors that capitalize on more opportunities. Setting up a cloud kitchen is easy and does not require more investment and space. Therefore, businesses can focus on business expansion even with a small budget.
5. Flexibility
The cloud kitchen models are quite flexible when it comes to experimenting with the menu. These models make it easy for the owners to keep up with the food trends and can offer more versatile food options. Also, another benefit of cloud kitchen is that you can scale up or down your business as needed
6. Build Multiple Brands
One of the primary benefits of cloud kitchen is that you can run multiple brands under one roof.
The best part is that you don't have to worry much about the investment that is needed to operate multiple brands. With that, you can keep the authenticity of each cuisine and can maintain the quality of your cuisine.
What are the popular cloud kitchen Business Models?
There are different cloud kitchen business models, and you must choose the most suitable one for your business. The most popular business models include:
1. Brand-Owned Cloud Kitchen
Brand-owned also referred to as Independent Cloud Kitchen, is the original business model where one brand operates a single kitchen. The restaurant does not have a physical store or dining establishment. It is only a commercial kitchen that delivers the order to the customer's doorsteps. The model gained popularity with the rise in online food ordering and the customer demand for deliveries.
How it Works: This cloud kitchen model operates in a compact area of approximately 500 to 600 sq ft. The most amazing feature about these kitchens is that they are specialized in a single cuisine only. These kitchens have fully equipped with all the tools and equipment which are required for optimizing delivery-oriented operations. The food that is cooked in this kitchen can be put up for sale through the delivery apps, and all the food deliveries are managed by themselves. The food is delivered to the customers by either their delivery agents or their in-house staff.
2. Hybrid Cloud Kitchen
This model is a combination of a cloud kitchen and a takeaway restaurant, as it has a physical storefront. The model has all the advantages of a cloud kitchen, and also a way to connect with customers.
Hybrid, the name says, is a combination of cloud kitchen and takeaways. It has a physical storefront and allows the customers to come in and take away their orders with them.
How it Works: All food brands are allowed to customize a Multi-cuisine menu depending on customer demand. These are the models where customers can visit the kitchen and see by themselves how their food is being prepared. The unique feature of these kitchens is that they also offer seasonal menus to meet the customized occasional demands of the customers like biryani, cakes, pizza, and whatever customer demands.
3. Multi-brand Cloud Kitchen
Cloud kitchens are based on data intelligence, demographics, famous cuisines, and demand. So, it is about setting up an idea of the demand for the most popular cuisines within a particular radius and setting up delivery for such items. Rebel food first came up with this business model in 2011.
The model has different brands as its establishment and is, therefore, able to generate an income with less investment.
How it Works: This cloud kitchen offers multiple cuisines through various brands. Each brand specialized in a single dish or cuisine. The brands associated with this model try to find the most ordered dish in the area and then try to deliver it in that area where less competitive brands deliver the same dish. In this model, only online orders are accepted, and the food is delivered by their staff or by an aggregator.
4. App-owned shell cloud kitchen
The business model, also referred to as shell in the food business circles, was introduced by the aggregator Swiggy. It offers empty kitchen space, maybe with a pipeline supply or ventilation, to the entrepreneurs on rent. The model is supported by Swiggy delivery feet, online application, and menu capabilities.
It is the responsibility of the entrepreneur to set up the kitchen, get the raw material, hire a chef and finalize the menu and recipes.
How it Works:
This could kitchen operates as a commercial kitchen space. These spaces can be rented by new or old restaurants and can operate side by side with other restaurants. It provides basic infrastructure such as gag pipelines, ventilation, electric supply, and many more. In these spaces, each restaurant has to bring its cooking equipment, recipes, staff, etc. They are allowed to make their menu according to customer demands. Also, these restaurant gets high visibility on the delivery app and have a good customer reach.
5. App-owned stacked cloud kitchen
Offered by Zomato, the model is similar to Swiggy ones with improved services. It provides a storefront for the customers and interacts with them. The cloud kitchen has the facilities such as built-in kitchen equipment and comprehensive processes.
How it Works:
In this model, the owner delivery app provides customized cooking stations, equipment, and other necessary facilities to prepare food. The orders are placed online and the kitchen space is rented and customers can visit the kitchen and check how the food is being prepared.
6. Fully outsourced cloud kitchen
It is one of the most novel concepts introduced by the aggregator named Kitopi. In this model, you can outsource all your operations. Whether it is meal preparation or call center handling, the majority of the kitchen prep is outsourced and gets delivered to your kitchen for the final touch. Only the delivery is taken care of by the Kitopi!
How it Works: It is a centralized concept, where the owner buys, stores food materials, receives the orders, and pre-prepare in his centralized kitchen. The final touch to the dishes is given by the partner restaurant, and then it is delivered again to the owner. The cloud kitchen brand receives the order and many other restaurants can contact the brand to provide food assistance.
7. Co-working Cloud Kitchen
This co-working cloud kitchen model involves massive infrastructure facilities. Different restaurants can rent these facilities from different locations. It is a multi-kitchen space and is divided into multiple units. Every brand is given separate units of the kitchen and is provided by all the facilities. These facilities include security, water supply, electricity supply, maintenance, and much more.
How it Works: While maintaining the individuality of each brand, the co-working cloud kitchen lets multiple brands rent the space. These brands do not overlap with the other brands, even if they are working from the same locations.
Who should opt for a cloud kitchen?
The cloud kitchen model is perfect for people who are looking to open a food business but do not have enough funds to do so. Cloud kitchen lets you share your recipes with the world without worrying about any space. Also, it is for those various businesses who are looking to scale up their businesses across cities and states.
1. Home-cooked food brands
If you are running your food business from home and continuously expanding, why not set up a cloud kitchen? A cloud kitchen will give more visibility to your business with lesser investment.
2. Food entrepreneurs
If you are already an entrepreneur with a chain of restaurants, then take a step forward and establish a cloud kitchen. It can help you generate more income with less investment compared to opening a full-fledged restaurant.
3. Dine-in restaurants
People now prefer online delivery and want food to reach them. Dine-in restaurants can change the traditional trend and can look at setting up a ghost kitchen.
Elements to keep in mind while choosing a location
1. Accessible for target delivery areas
It is vital to ensure that the location of your kitchen is nearby your delivery location. You must address deliveries within a particular radius.
2. Affordable
Make sure you have a cost-effective space, and that you make the most of it.
3. Windows and Ventilation
With cooking all day, it becomes even more crucial to have ventilation, and windows in your kitchen.
4. Safety-checked
Safety should always be your priority and ensure all health, electric, and other concerns are taken care of.
The costs of a cloud kitchen business
Cloud kitchens offer a lot of benefits over traditional kitchens. The setup of cloud kitchens requires less space. But, the cost of establishing an on-demand food delivery business model varies. It depends on many factors, and the most crucial aspects include the complexity of the features, the platform for the app development, hourly rates, geographical location, and more. However, on average, you might pay $5,000 and $10,000 for a basic MVP model.
Winding up
According to USB forecast, online food delivery is set to expand from a market worth USD 60 billion in 2018 to USD 365 billion by 2030. With that more and more food, entrepreneurs are turning to cloud kitchens.
It is going to be one of the most profitable investments for businesses with no or minimal risk associated.
So if you are an entrepreneur and want to step into the digital world of cloud kitchen app development, we are here to help you out.
OZVID is one of the leading app development companies that helps you update your restaurant with the best cloud kitchen mode at an affordable price.