Artificial Intelligence, AI, is trending everywhere and is leaving its traces in all industries. In the past few years, it has impacted and transformed many businesses. The various AI algorithms have different purposes. From detecting fraud to automating financial data analysis, AI is helping industries make intelligent and better-informed decisions.
For example, AI algorithms are capable of detecting anomalies in financial transactions. These algorithms are helping businesses stop fraudulent activities.
The AI in FinTech market report given by Mordor Intelligence says that the market is supposed to register a CAGR of 25.3% during the forecast period of 2022 – 2027.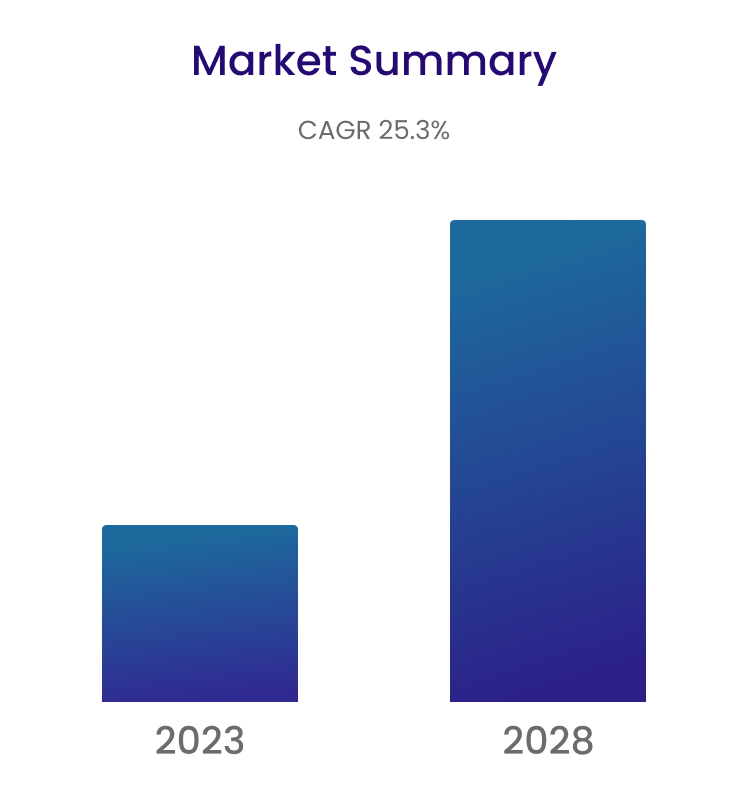 The Global market stats reported by The Business Research Company claims that the global AI in the FinTech market grew from $9.15 billion in 2022 to $11.59 billion in 2023. It can grow to $31.71 billion by 2027.
The creditability of AI in FinTech
The emergence of AI in financial technology, also known as FinTech, has revolutionized the whole FinTech industry in the past few decades. AI has enabled FinTech companies to offer more personalized and automated services, making companies more advanced. It is helping FinTech companies to process transactions quickly and accurately.
AI has enabled FinTech companies to step up their games into the market potential and grow globally.
Additionally, AI is useful in FinTech by using predictive algorithms for predicting loan risks. It is helping companies plan their businesses that are looking to expand globally. And machine learning, a subset of AI, plays a vital role in accomplishing business goals.
What are the top reasons to choose AI for the FinTech industry?
There are many reasons to opt for AI in the FinTech industry. Here are the top reasons which have helped FinTech grow and develop, they are as follows: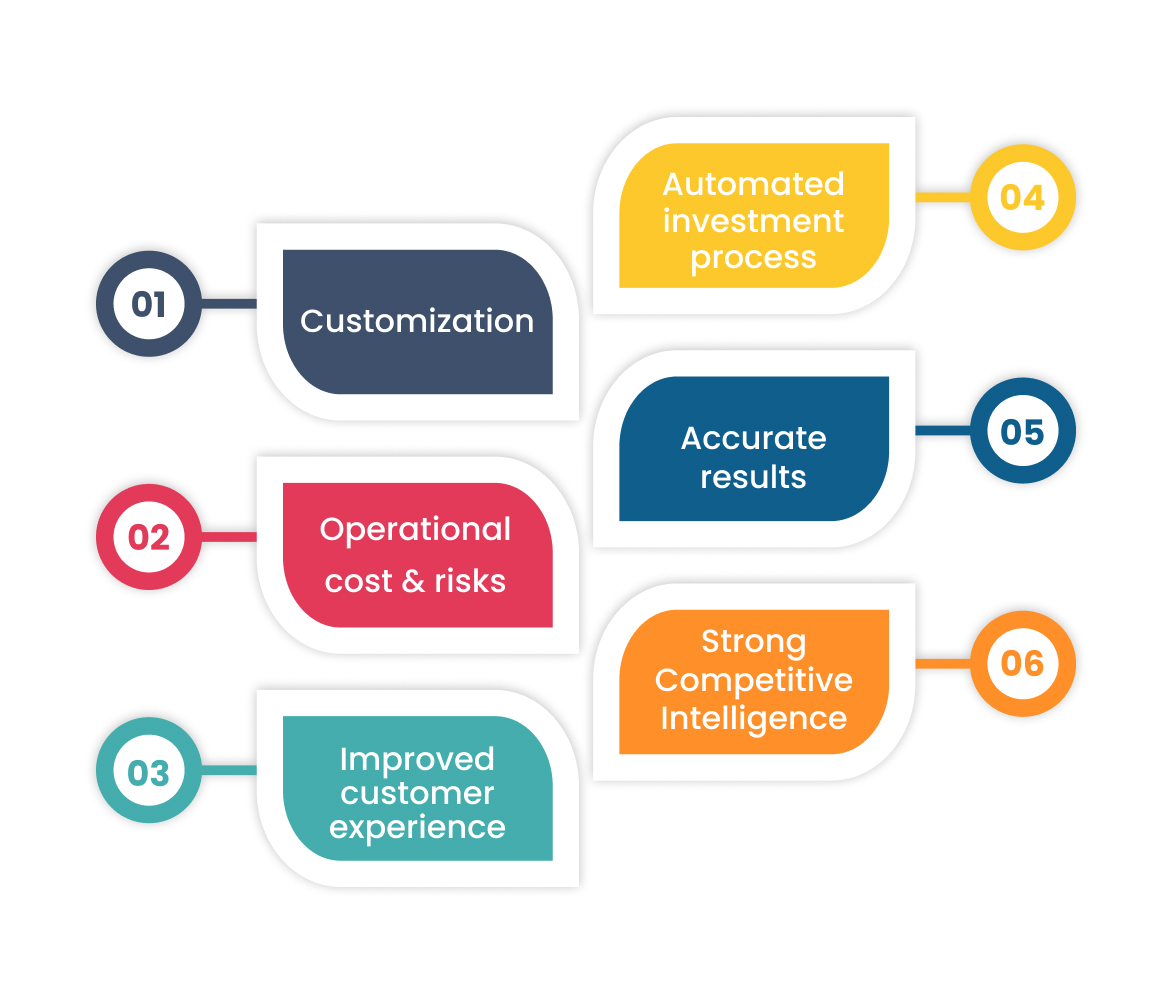 Let us explain all the above-discussed points in detail.
Customization: AI, with the help of machine learning, has made it easy for companies to set up business plans automatically. It helps businesses develop investment plans in a way that helps them achieve targets that are suitable and highly secure. AI has successfully removed the need for manual tasks, and companies are fully adopting AI for their business operations.
AI is a multichannel approach that analyzes data and delivers personalized recommendations according to the user's profile. These tasks used to be done manually before AI, but now all these tasks are handled by AI. It is helping banks to go on complete automation, and the probability of the failure of transaction or loan processes is null.
Operational cost and risks: AI has been of great help to banks. The tasks done manually have a high probability of human errors, and sometimes decisions are doubtful. And it takes a lot of time and effort to fix the issues.
But with AI, the tasks can be completed with automation and have less probability of errors. One of the main pillars of AI is Robotic Process Automation (RPA). To avoid unnecessary manual work, time, and costs, AI mimics the process of tasks.
Improved customer experience: Banks face multiple issues while delivering services. Sometimes, banks do not meet the demands and queries of the users. But such scenarios are taken care of by AI.
Now, banks do not have to make their customers wait for a long time and can resolve the issues as fast as possible. AI has made it easy for the FinTech industry to flourish.
With the rise of AI chatbots, it is easy for banks to handle conversations. Now, it is easy for banks to connect with customers, note their queries, and give them the perfect solution to their issues.
Chatbots work around the clock and can deal with customers worldwide. AI chatbots are considered one of the most used technologies in the FinTech industry.
Automated investment process: AI is making technology more advanced, and many banks are opting for AI to streamline their operations. Now banks are making investment decisions and are doing their investment research using AI. Not only that, many FinTech companies are launching robot advisers to assist their users.
According to Brimco, robo-advisors can manage $2.8 trillion in assets by 2023. Also, by 2025, these numbers are expected to grow at the rate of 18.83% and can reach $2.84 trillion.
These robo-advisors are capable of offering meaningful pieces of advice to the users and resolving queries effectively.
Accurate results: In the FinTech industry, tasks are time-consuming and require a large amount of bandwidth. It leads to many minor issues and affects the results. But by incorporating AI, the tasks can be handled automatically, the results are accurate and precise, and the chances of errors are fewer.
Also, it helps you save a lot of time and effort and provides flexibility to be more innovative. It helps them grow worldwide and also increases their productivity.
Strong competitive intelligence: Competitive intelligence is a process of collecting and analyzing data and looking for fixed patterns that help businesses learn about their potential and present competition.
The emergence of artificial intelligence has changed the business landscape in multiple domains. Research says approximately 82% of traditional financial companies may expand in the next 3 to 5 years. With AI, conducting research, data analysis, and competitive intelligence has become an easy task.

Challenges that occur while opting for AI in FinTech
With advantages, there are a few challenges that come with AI, and FinTech businesses must be aware of that. These challenges are as follows: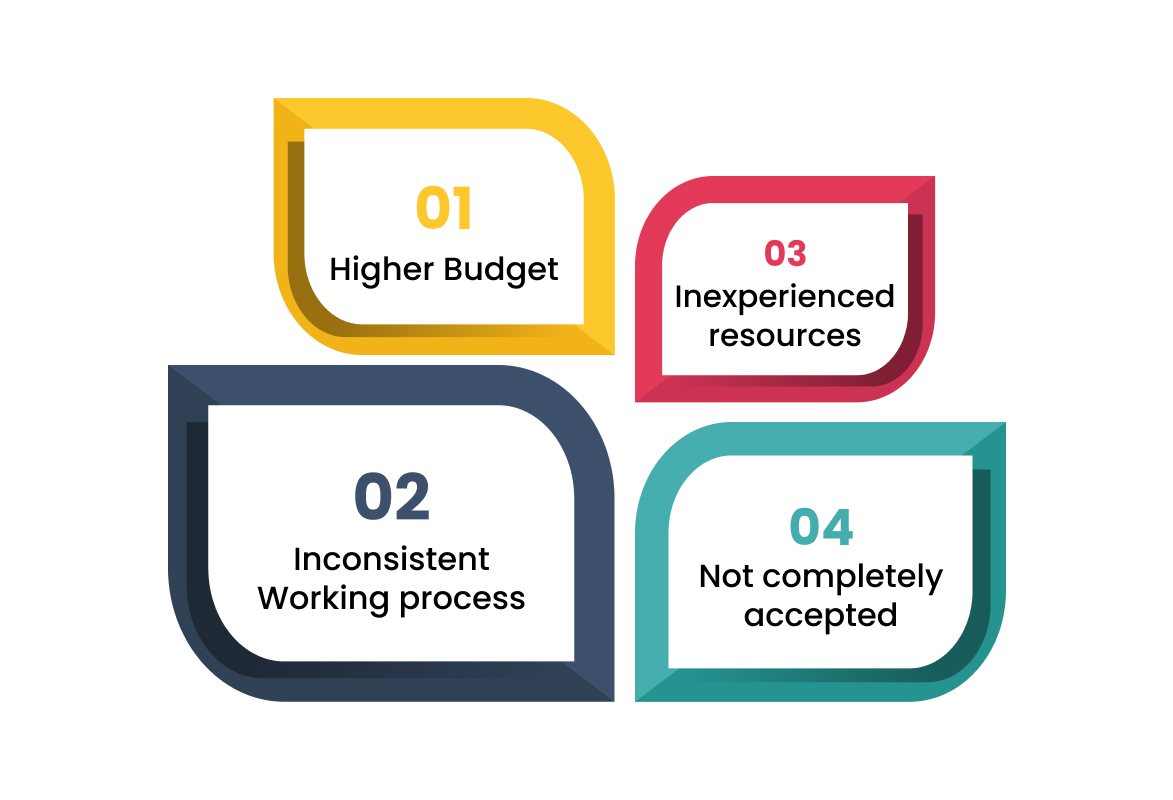 Let us explain all the above-discussed points in detail.
Higher Budget: The budget is always the first thing that is considered when opting for any business plan. Sometimes, the lack of budget comes in the way of their success. However, with the market interest in AI, 86% of banks and insurance companies have planned to invest in AI by 2025. So in the future, companies can get the help of AI investment policies to scale up the business.
Inconsistent working process: Inconsistency in working processes or a lack of a determined approach can mislead FinTech companies. So, if you are looking to invest time and money in AI, companies must have a robust plan. Also, they should work consistently to make it a success.
Inexperienced resources: Many companies are determined to work but failed due to a lack of resources. It is one of the main challenges companies face while opting for AI, which leads businesses to face many issues, including time wastage and more. And to avoid such queries, companies must have a proper framework for hiring and reskilling AI professionals.
Not completely accepted: Not all industries prefer AI, and this is another vital concern with AI. Some individuals or users are against the concept of AI. And prefer to deal with and interact with humans only rather than chatbots.
It may take a lot of time for the users to understand that AI is not harmful and is only helping them. It is something that businesses can not handle because it depends on the perspective of users.

Applications of AI in the FinTech Industry
As we have discussed the benefits and challenges of AI, let us now dive deep into the details and know its applications in the FinTech industry.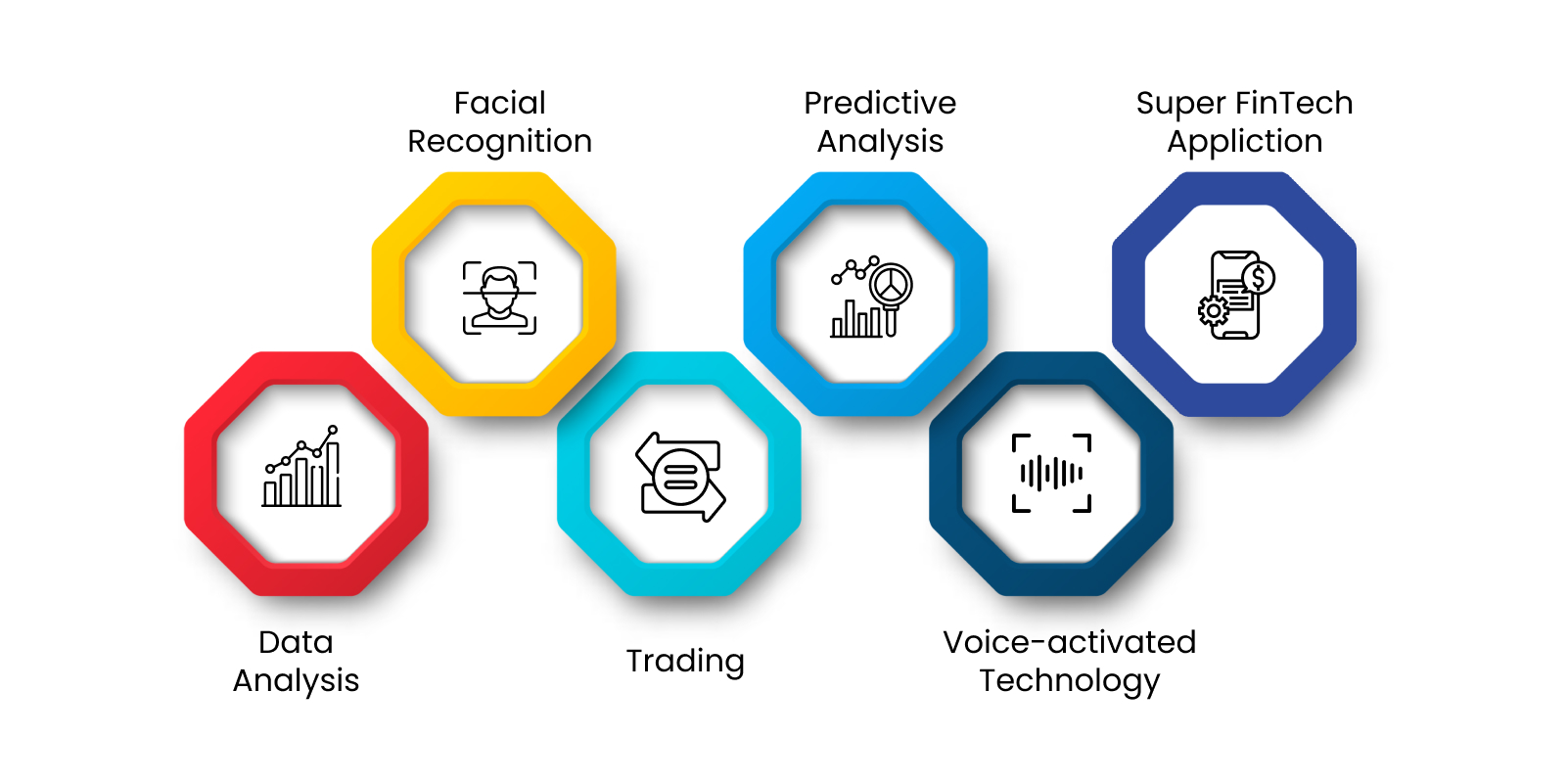 Data Analysis: AI data mining tools help companies in doing data analysis. These tools help FinTech companies understand their requirements and goals. It helps companies understand the patterns, gather information, analyze, and archive data by disclosing valuable information. AI uses forecasting algorithms to evaluate past pieces of information through predictive analysis. It helps businesses understand stock price predictions, revenue forecasting, and other data details. These predictive models help FinTech manage and create future-proof strategies that can help them grow globally.
Facial Recognition: Receiving facial recognition is an advanced technology that helps them grow globally. These applications are used in many businesses and are opted in restaurants like KFCs or big stories. Facial recognition uses computer vision technologies, which recognize the face and sends a template to the interpreting device that verifies the template matches. If the template matches the original template in the bank, it unlocks the systems or allows the payments to go through.
Trading: Businesses use AI to evaluate data in real-time with the help of quantitative, algorithmic, or high-frequency trading. It calculates data, notifies you of all the details, and allows you time to take appropriate actions. Companies involved in hedge funds, mutual funds, and capital management are using AI to grow their businesses.
Predictive Modeling: Predictive modeling tracks the potential risks in fraud detection and loan processes and helps companies to enhance their revenue globally and reach new heights by optimizing sales. AI models or algorithms help businesses learn the buying behavior of their customers. The models help them understand their customers needs. It allows you to change your strategies based on their requirement, which can further help you get more customers and enhance sales.
Voice-activated Technology: Voice assistance is helping businesses prevent fraud, as it is the most natural method of communication. Also, it is most difficult to mimic. It handles payments, card activities, password resets, and setting payment reminders.
The FinTech movement is rapidly gaining popularity in the banking and payments sectors and has impacted organizations. With this, AI is allowing FinTech to become safer and more secure.
Super FinTech Application: Super apps are gaining popularity and are trending these days. It has become a one-stop shop for banking and covers many financial products. The trends have evolved around the globe, and the working process of banking and financial services has changed. These apps encapsulate online experiences and connect customers to the market.
To Conclude
In conclusion, AI has streamlined and automated mundane tasks and allows businesses to focus on higher-level tasks. From fashion to medicine, AI has entered every field.
AI-enabled chatbots provide timely customer service. They answer queries appropriately and on time and are highly cost-effective.
FinTech companies around the globe are using AI to predict customer behavior and market trends. It helps them make better decisions and develop better strategies.
So, if you are looking to grow your FinTech business, professionals can help you achieve your goals. Professionals keep themselves updated with the latest trends in AI and ensure that customers get the best solution or apps that help their business grow.
If you are seeking a top-notch Custom software app development company that can help you develop the best apps in the market. You are at the right place. We at OZVID Technologies help customers get the best solution in the market. Our developers have years of experience and helped many customers worldwide to empower their businesses. To know more, contact us.