In today's world, technology is constantly evolving, and it is challenging for companies to stay ahead of the game. Mobile apps have become increasingly popular, with people using their smartphones and tablets to access information and perform various tasks through these applications.
From streamlining internal processes to connecting directly with customers, the use of mobile apps is becoming more important than ever before. However, choosing a reliable and experienced developer partner can prove challenging as the market is constantly evolving.
Key mobile app statistics for 2023:
Mobile apps can generate over $935 billion in revenue in 2023.
The Apple store has 1.96 million apps present.
The Google Play Store offers 2.87 million apps for downloading.
21% of millennials open mobile apps more than 50 times daily.
49% of users open an app 11 or more times each day.
The typical smartphone user utilizes 30 applications per month and 10 apps per day.
Importance of criteria set for an app development partner
Here are a few reasons that can help you understand why it is crucial to set criteria for hiring your ideal mobile app:
It allows businesses to set up a standard framework for evaluating IT service providers based on their requirements and business objectives.
Help you choose the right mobile app development companies based on factors such as experience, quality deliverables, engagement proposals, etc.
Prevents you from choosing the wrong service providers which can affect your business in many ways.
How to choose a dedicated mobile app development partner?
Choosing the right mobile app development partner is crucial for any business. But this is not an easy process. Here are a few factors worth considering when opting for this hiring process: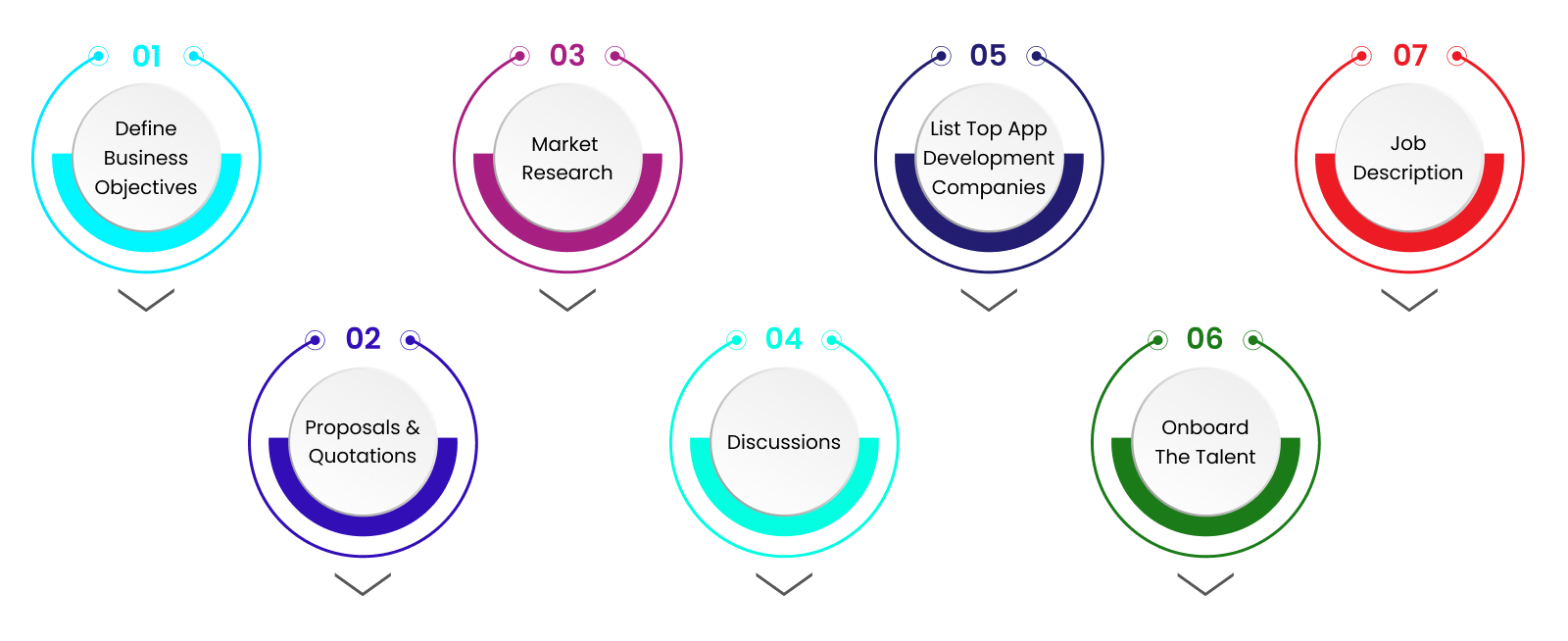 1. Define business objectives: Having clarity on business objectives help your development partner successfully deliver the services and apps. You must know your requirements and end goals. The requirements can be related to development, end goals, and more. Let us start by defining the end goals.
Mobile App Requirements: To define your requirements related to the mobile app, ensure that you know the answers to questions such as: What type of mobile app do you want to develop? Is it a simple Minimal Viable Product development or a complex app development?
These questions can help companies prepare the checklist for choosing the right mobile app development team.
Scope of your idea and end goals: To check the scope of the idea and end goals, you must have answers to the questions such as:
What is the end goal of your mobile app?
What questions do you want to discuss with your shortlisted mobile app team?
Additionally, define the team size, tools, and technology you might need to reach your goals.
Budget: Budget allocation is one of the most crucial factors and plays a vital role in determining the effectiveness and quality of the team. It is challenging for every business to evaluate its cash flow and determine the necessary adjustments as per requirements. This is where businesses must take calculated risks and make financial sacrifices.
Realistic deadline: Setting realistic deadlines is necessary to deliver any product on time. Ensure to study difficulties in your ideas, tools, technology stack, features, and functionality. Knowing your project's difficulties can help you plan the deadline properly and know the time required for production.
Software model: With the enhancement of technology, numerous software development models have come into existence. These models include waterfall, incremental, agile, etc. Among all the models, the most used models by IT experts are Waterfall and Scrum.
Pick an engagement model: There are a lot of models on the market that cater to your needs.
Fixed Price: After knowing the requirements, it is necessary to opt for fixed price models that are beneficial to getting the product on a defined timeline.
Dedicated Team: The fixed model gives businesses the authority to handpick fine app developers and create a dedicated team that can help you develop the project with the required functionality.
Time and Material: After hiring, the team will bill you per hour. Moreover, the time and bill are decided by the experts.
2. Market research: Market research is crucial before deciding on any service providers. This helps you understand market trends and the value your product can bring to the market. It helps businesses know the latest UI/UX design tools, trending app development tools, and technologies and helps them integrate them into their products. To do effective market research it is crucial to connect with app experts and consultants. They can give you their perspective on your app development idea and help you make better decisions.
3. List the top app development companies: Once the planning stage is complete, take time to select the right partner for you. There are a lot of ways to search for your IT partner such as:
Firstly, search using effective keywords such as top or leading mobile app development companies. Secondly, check the global IT company listing sites such as Clutch, etc.
Also, look for blogs such as "How to create a mobile app", "steps to create an efficient mobile app", and more. Furthermore, check that you can access the competencies based on your project:
Location: Ensure that you know the target location while looking for a software development service provider. It is essential because every country shares a different economy, talent, and cost. Moreover, while targeting a location or country, ensure that their experts can understand the language you speak. Considering such factors, it becomes easy for businesses to choose IT providers from countries such as India, Thailand, Belarus, and more.
Industry experience: Ensure that the service provider you are looking for is technically sound. The experts of the service provider must be able to research and implement the right technical stack while developing the product.

But how do you select the right partner with the required technical skills? Well, market research can help you a lot. It can help you finalize the technical stack, specify skill set requirements with industry experience, search for IT companies, and check the company's background.
Company size: Knowing the company size helps you find a reliable team. Companies seek reliability while hiring freelancers or developers from other companies. It is advisable to hire a provider who has a huge in-house team.
Portfolio: A portfolio is a good way to get some idea about the IT service providers. It allows you to decide if you want to choose a specific provider or not. So, it is wise to shortlist companies based on their portfolio. It helps you find out the companies that have worked on the same problems, the level of complexity, and the competencies needed to deliver apps with seamless user experience.
Company's reputation: Ensure you check the testimonials available on the websites, ratings, and reviews. These details can help you choose the right company. Hence based on the above data, you can hire the right company.
4. Job description: After selecting a mobile app partner, you must request a proposal and explain everything that your app development project needs. It is advisable to define a project and business objectives.
There are a few things that you must mention in your RFP (Request for Proposal).
Project description
Team requirements
Project milestones
Project budget
Industry regulations
5. Proposals and quotations: After sending the proposals to the chosen companies, it is crucial to evaluate their proposals mindfully. Some may respond with confidence to meet your requirements, and others may be more inclined towards getting the deals and money. Moreover, some clients might not respond. So, you have to be careful when choosing a service provider and interview them properly.
6. Discussions: After evaluating the proposals, and interviewing them thoroughly, choose the one that best serves your needs. Do a virtual meeting that allows you to gain deeper insight into their project approach. Discuss your requirements properly and test their expertise. With that, you can take these opportunities to negotiate the budget, ask them to sign an NDA (Non-Disclosure Agreement), and more.
7. Onboard the talent: Lastly, choose the final service providers you want to move forward with. You will have shortlisted the CVs of the experts, interviewed them based on their communication and technical skills, and signed the required documents.

Mistakes to avoid when shortlisting your mobile app development partner
Now that, we have learned the best practices for choosing a mobile app development company. Now, let us learn the common mistakes that you must avoid while choosing a mobile app development partner.

Prioritizing cost over quality: However, project cost can become a constraint. But cost should not be the only determining factor in choosing a mobile app development service. The cost is directly proportional to the quality. So, fixing a budget helps you get quality development. You might have to make a higher investment upfront, but it can save you lots of money and time afterward.
Taking your confidentiality for granted: It is vital to sign an NDA (Non-Disclosure Agreement). If the service provider refuses to do that, it is better to leave them. Compromising your data security is not wise.
Not focusing on documentation: Documentation is another important factor, but companies sometimes tend to ignore that. Documentation consists of every piece of the app development process. So, choose the service providers who understand the value of documentation and provide you with the same. Ensure that the documentation is proper, and see if the service providers have written every step clearly or not.
To conclude:
Mobile apps play a vital role in business marketing and help enhance the visibility of their brands. Developing professional mobile apps that can help you empower your brand's value. So, it is suggested that you hire a mobile app development company. They offer end-to-end development processes to businesses with full support and maintenance. With that, they have years of experience and have solved a wide range of projects.
Furthermore, app development companies have a cross-functional team of professional developers who know and understand the business side of the projects. Also, they keep the data secure and ensure the confidentiality of a project.
So, if you are looking for an experienced app development company that can help you empower your business, OZVID Technologies is here to help. We have a dedicated team of developers who ensure that they develop mobile apps that help you grow globally. Contact us and share our app ideas. We will help you turn your idea into reality.