Gone are those days when people had to wait for days to find a maid to perform their household chores. With the advent of technology, everything is digitized and available on-demand. Mobile apps have become extremely crucial for businesses of all genres. Uber for cleaning business is accelerating and is growing at a rapid pace. Asking for cleaning services door to door is no longer a trend. It has become a trend to delegate these routine cleaning tasks to professionals.
As per research from Allied Market, the cleaning market is expected to accumulate more than $74 million by 2022. Getting these cleaning services on a single tap lets you hire professionals to clean rooms, offices, buildings, and other spaces. If you are looking forward to developing an on-demand app for house cleaning services, here is a comprehensive blog with complete information. Read it to find out how to develop the top quality app and offer convenience to your customers.
Going through the market potential
There are huge market potential and growth in the on-demand maid business as people are constantly looking for apps and innovative solutions that allow them to hire these professionals. This could spare a lot of your time which could be used to perform other productive tasks. So what more do you need to know about the on-demand cleaning service apps? Here are some facts and figures that depict the market potential of these applications.
The revenue of the home service market is expected to reach up to $1200 billion by 2026.

As per Harvard Business Review, more than 22.4 million consumers now use on-demand services and this number continues to grow annually.

In the US, more than 3 million people are working in the cleaning industry.

Most of the demand that comes for the cleaning services is from the commercial, followed by industrial and then residential.
How does Uber's Cleaning help in the business acceleration?

1. Easy Customer Interaction
Whether you are offering a cleaning service or any other, an easy and seamless interaction with the customers is a must for business growth. Here on-demand mobile applications are a must to simplify these processes. The advent of mobile applications for businesses has seen huge growth as it makes interaction quite easy and quick with the customers.
2. Increased Brand value
An application itself represents a brand. It can be customized as per the user impression. Make sure the mobile app you offer must be unique, appealing, and informative. It is like signage for your brand and a perfect mobile app brings recognition to your brand and therefore enhances the brand value automatically.
3. Boost in Productivity
When the productivity increases the profit increases too. Having a perfect mobile application boosts your customer engagement and drives more customers to a sale.
4. An edge over competitors
An app is what differentiates you from your competitors. A unique app with all the details provided helps your business stand out from the competitors giving a competitive edge over creativity. Not only it distinguishes you from the competitors but also offers them the potential to extend its reach and ultimately the ROI.

Most Trending Types of On-demand Cleaning Services

On-demand cleaning services can be differentiated into three main categories that depend on the area where the cleaning is required. Here they are:
1. Post- construction sites
The construction sites are a mess after the renovation is done. So once you plan to sell these apartments it becomes crucial for the agents to ensure the place looks presentable. This cleaning is a complicated one and requires a huge amount of time.
2. Commercial spaces
This type of cleaning specializes in commercial buildings that may be banks, hospitals, and other offices. The services include cleaning the floor, vacuum for the sofas and furniture, washrooms, and more.
3. Household cleaning
This type of cleaning is for private households. It ensures your house, rooms, and kitchen are all set in order. The cleaner generally cleans the floor, furniture, tiles, utensils, and other household chores.
Get a free consultation for your app idea. Let's get started.
The Popular Uber for House Cleaning Apps Today

1. Maidsapp
It is quite a popular on-demand cleaning service app that allows you to book professional maids and cleaners locally. What all you need to do is sign-up and quickly find the maids available nearby that can be hired immediately and can also be booked for later sessions.

2. Merry Maids
It offers professional on-demand cleaning services that offer customized cleaning as per the needs of the users. The cleaners are specially trained to offer such services. They often offer free consultations, gift cards, and special offers to their customers.
Here are the Features of On-demand Cleaning Apps
To have an on-demand cleaning service app, you need to include three panels - Admin panel, Cleaner panel, and User panel for smooth coordination of the functions. The panels and their functionality is shown in the image below.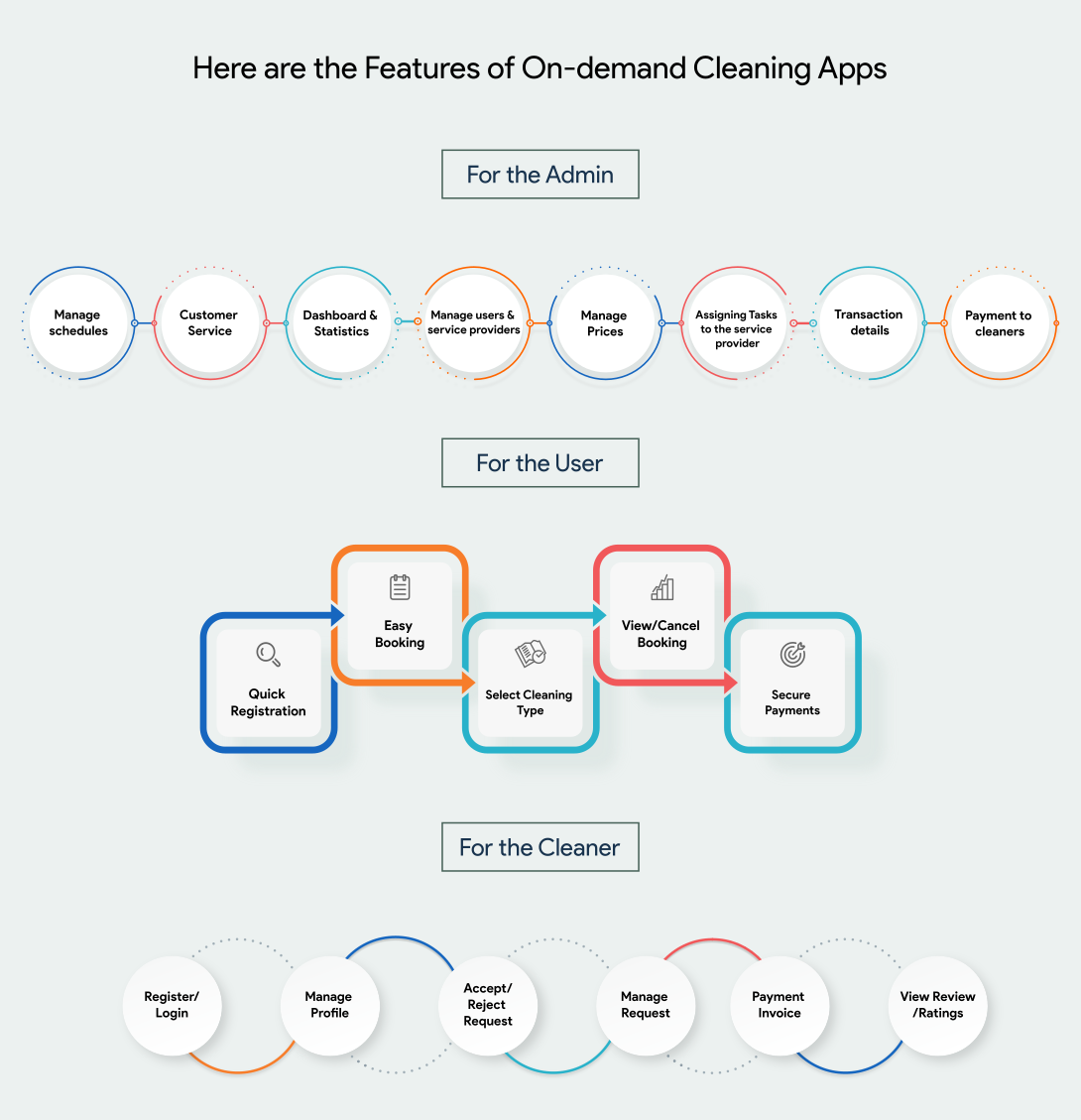 Advanced Features vital for an On-demand House Cleaning App

1. Integrated Payment
In Uber for maids application payment gateway integration is the most crucial. When you have the card payment options the users find it much simpler to pay and allows them to go cashless. If you don't integrate a payment gateway, your customers would go after your competitors.
2. Cleaning Task status updates
With the status update feature, the users have an idea about the work that is already been done and the app owner stays updated with the details of the maid.
3. Calendar Booking
The app should allow the users to book the services via calendar format while choosing the time and date along with it. This makes it easier for the app owner to know the bookings and appointments already been made.
4. Direct Messaging
The chatbots feature must be integrated that allows easy and quick chatting between the professional cleaners with the one who is willing to avail the services.
5. Navigation and Tracking
The role of GPS is the most countable when we talk about on-demand cleaning app development. The GPS services allow the users to check the routes and track them that have to be taken by the respective cleaner. The developers must integrate Google Maps for navigation.
6. Live Consultation
This is the latest feature that takes the app development services to a whole new level. Here the users can freely communicate with the service provider with the live consultation. This offers them services in a more personalized way that ultimately helps them to meet their daily chores in a much better way.
7. Offer Discounts and Promotions
This is the best approach to retain customers. Therefore, embedding them into your application helps to increase the visibility of your app and make it to the top chart in your respective niche.

How expensive it is to build Uber for cleaners?
Most of the organizations charge differently as per the hours and features they deploy during the app development. On average with the normal and limited features, an app can cost $10,000 to $50,000. For the rest of the information, you can consult a mobile app developer to get a fair idea of the cost of a development project.

Making the Right Choice!
The on-demand cleaning app is the perfect platform that connects the owners with the cleaners so that they can avail their services on a tap. But to create an app that is highly functional and robust it becomes crucial to hire a development company that understands all your needs and is competent with the latest technology and tools.
Partner with OZVID and create great potential in your business with the amazing opportunities and solutions we offer!