In today's era people rely more on online shopping, and it has, in turn, led to a rise in challenges, like same-day deliveries and more, that are faced during the delivery. To overcome the challenges that are involved in the deliveries we need efficient delivery management apps like courier delivery apps.
"The rise of the eCommerce industry has led to the rise in courier delivery business."
From packages to grocery and other documents, the on-demand courier delivery apps ensure safe, timely, and fast delivery with real-time updates. These applications have made lives easier and allow people to deliver products around the globe.
As the demand continues to rise, apps have become an essential part of modern trade. It offers a better experience to the users, so we have decided to give our readers a brief introduction to the growth and the steps for the development. If you are looking forward to a courier delivery app development, the blog offers comprehensive details.
Market Analysis of Courier Delivery Apps
A courier delivery app offers convenience to users by providing fast and door-to-door deliveries. Research says that the market size globally for courier delivery apps was 299100 million USD in 2018 and by 2025 it will reach 464300 million USD.
According to Research and Market, the courier market has grown by USD 100.9 billion during 2014-2020 at a CAGR of 6%.
This market almost reached US $380 billion in 2018 and doubled by 2020.
As per Technavio's analysis, the courier delivery service market is expected to record a compound annual growth rate of more than 5% by 2023.
FedEx(one of the global names in the courier delivery market) generated a revenue of almost 65.5 billion U.S. dollars in 2018.
The statistics show the market size worldwide between 2009 and 2024.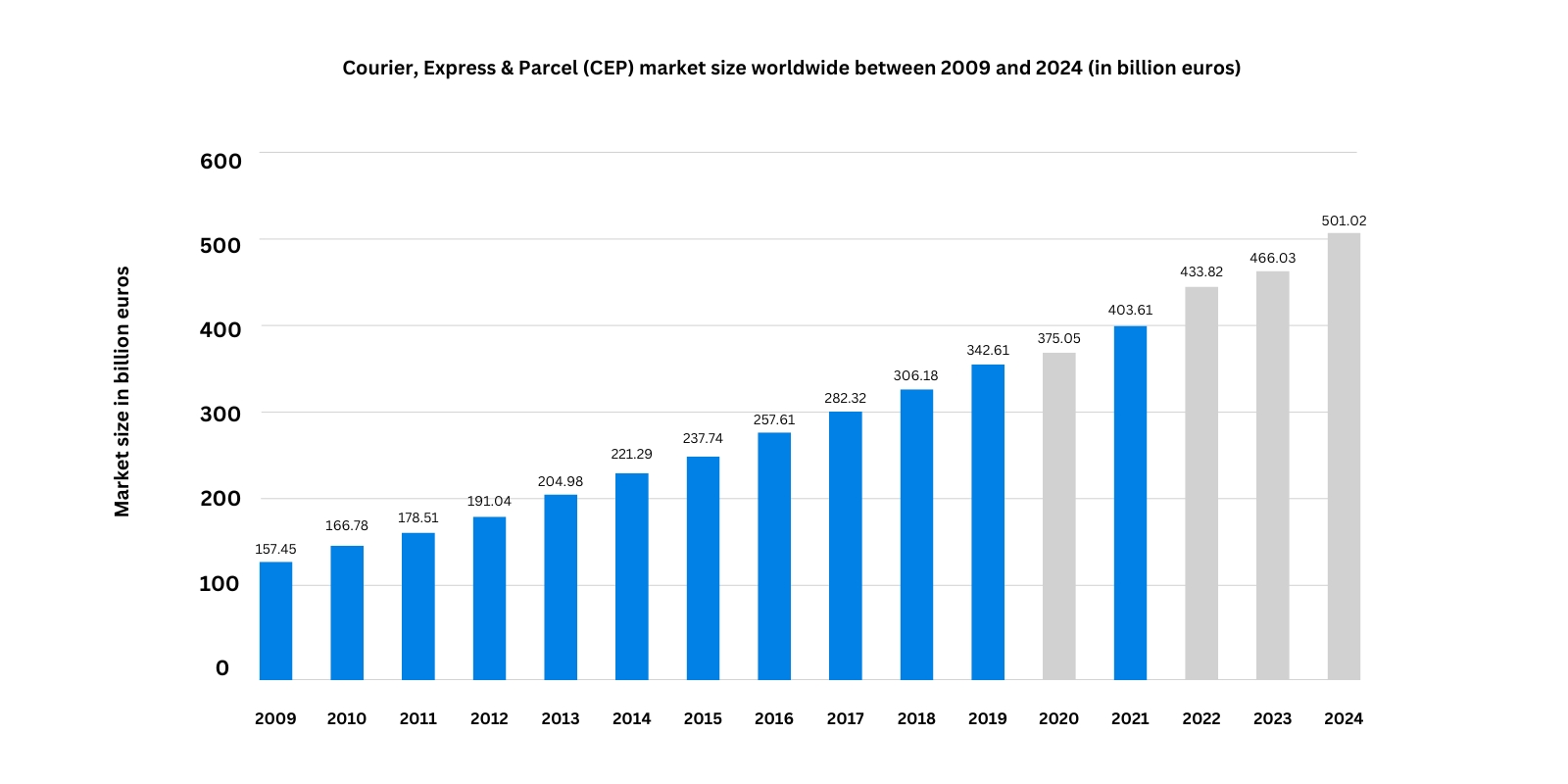 Business Models of a Courier Delivery App
There are generally four types of courier delivery applications based on the business model. Companies choose them according to their needs. Here they are:
1. Package Tracking Business Model
In this business model, real-time tracking tools are used to build such courier tracking applications. Using this model, all the data that is gathered from different carriers are collected in one place. And the companies need only one app to track all deliveries
The application reflects and helps organizations to know where the parcels are and when will they reach the customers. This model will collect all the user information and process it. Also, the app created by using this model has a push button to keep the user updated on the delivery state.
2. Postal Courier Services
FedEx is an ultimate example of such a business model. This model offers the same-day delivery of goods to the users. Users can avail of these services to make emergency deliveries of important goods.
The model also provides a customer admin panel that helps customers to create shipments and print labels for the packages. The delivery model is quite popular and continues to gain traction all over the world.
3. Brand Based Delivery Services
In this model, companies use apps that offers order tracking of orders. This model helps organizations to keep transparency. Using this model companies allow users to track their orders and check if their order is dispatched, shipped, or out for delivery.
Examples of brand-based deliveries are Amazon, Myntra, and other e-commerce apps.
4. Uber-Like Marketplaces Delivery App
When we talk about Uber, it is one of the most interesting business models and gets a topmost priority. Uber's delivery model works efficiently and makes sure that the app meets users' demands and manages all internal operations efficiently.
Factors that help boost your business growth
1. App Promotion
There are millions of apps on the play store that remains untouched. So, launching the app is not enough. App promotion is a must that ensures your app is downloaded by the users. You can promote the app with marketing campaigns and social media.
2. Focus on necessities
Focusing on the locals is vital when it comes to growing your business and for that, you must take consistent steps. You should be able to fulfill the need of the local users and build a robust relationship with them.
3. Check for ratings and feedback
Customers provide you with rating and feedback that makes your services more reliable. Also, focus on solving customer issues as soon as possible because even single negative feedback can have a huge impact on your business growth and reputation.
4. Offers
To attract more customers you must offer discounts and coupons. So, it is important to think of great ideas that can help you gain more customer attention.
5. Customized messages
Customized messages connect your customers to the brand.
Steps Involved in Courier App Development
No matter which couriers business model you are using, there are six steps that you need to follow while developing a Courier App. These steps are :
Step 1: Planning
Step 2: Choosing Business Model
Step 3: Create an MVP
Step 4: Testing
Step 5: Launch, Learn and Improve
Step 6: Maintenance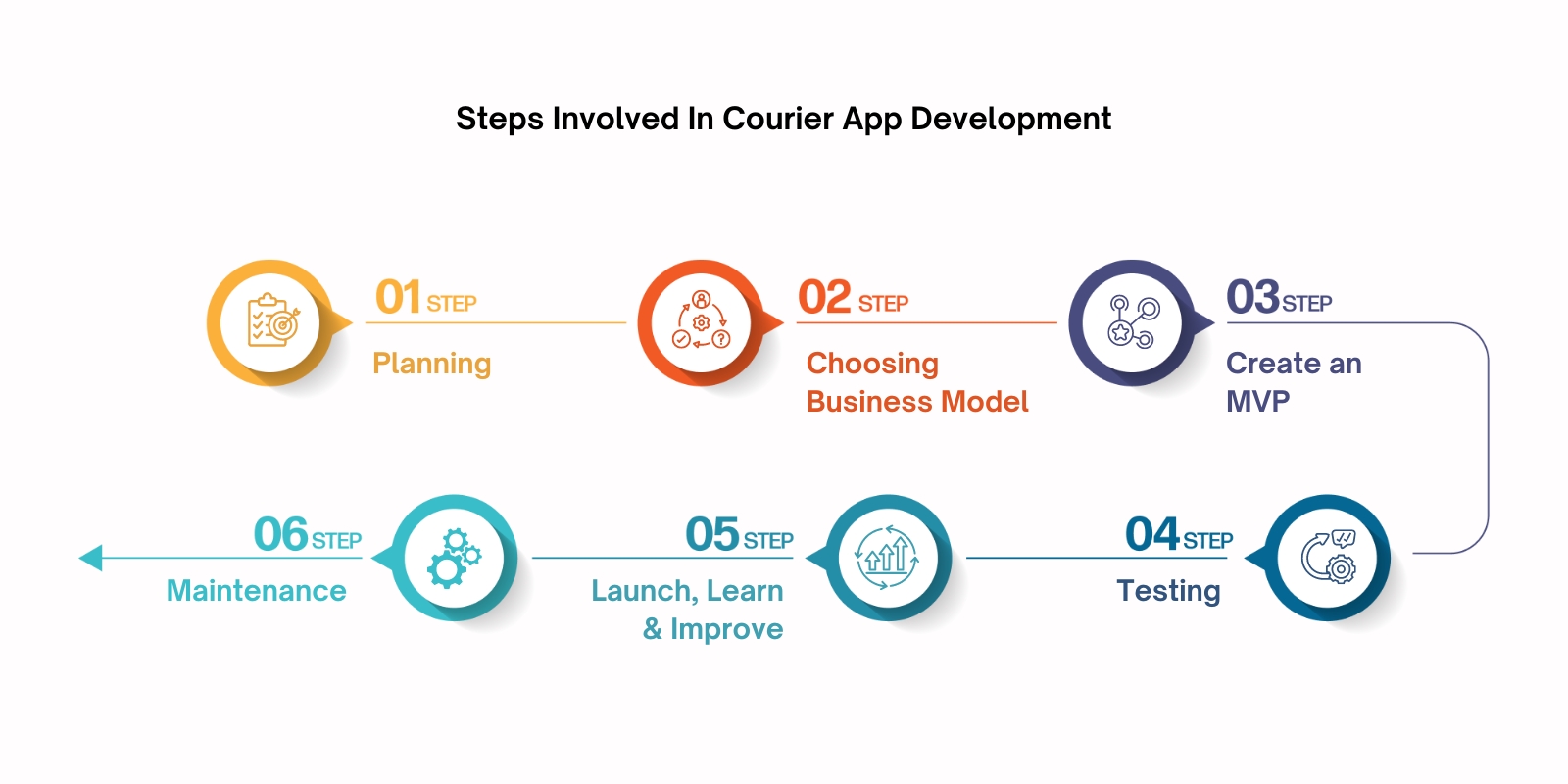 Now, let's learn more about each of them in detail.
Step1: Planning
The first step involved in courier app development is planning. Planning makes it easy for developers to stay organized and accountable for their daily tasks. It involves a flowchart that depicts all the processes and helps them accomplish urgent steps involved in the process of development and achieve them ahead of the deadline. Also, planning helps developers to understand:
Why should they choose a courier app?
How to create a courier app?
What is the scope of the courier app that is being developed?
Step 2: Choosing Business Model
The next step involves selecting a business model for the courier development app that you are willing to develop. It helps developers decide whether they want to choose Postal Courier Services, Package Tracking Services, Brand Based Delivery Services, or any other.
The few points you should consider while choosing a business model include:
Choosing your audience
Your long-term goals
Available resources
Understanding organizational demands
Considering the above-mentioned points can help you choose the optimum courier delivery, business model.
Step 3: Creating an MVP
A Minimum Viable Product or MVP is a version of the product that is created with few features to attract the audience. It is created before showcasing your original courier app.
MVP helps developers reduce development time and effort by giving feedback on your Courier App. An MVP product is like testing your app idea. Releasing an MVP on Google Store or an Apple Store helps you update the features in response to users' feedback.
Also, creating an MVP can help you draw investors for the project and helps in establishing quick sales. Also, you get the analytic reports for your product, which is crucial for any app.
Step 4: Testing
Before releasing, proper testing of any product is essential to verify its quality. Your courier delivery app must go through a complete phase of testing after being developed. Testing involves checking each step involved in the process to make sure it operated as required.
There are a few tests that are required to be done for a courier delivery app. They are:
Speed Testing
Performance Testing
Security Checks
UI/UX Testing
Functional Operating Tests
Step 5: Launch, Learn and Improve
Once the MVP is launched, you will receive a lot of feedback from the targeted audience. Their feedback can help you know the critical information like limitations, improvements that can be done, etc about the app. Also, you will receive reports and analytics that will help you make better business decisions.
By focusing on ongoing updates, feedback, and enhancements, you can improve your app to meet the customer's expectations.
Step 6: Maintenance
The post-launch maintenance is the most crucial step that you must follow. In any app, there is a significant quantity of database ID stored like the front end, back end, and user interface. There is a high possibility that to improve the performance of your app, you can encounter a problem or may need to update the program. And these tasks should be handled carefully by professional maintenance staff. There are a lot of benefits of post-launch app maintenance. It includes:
Increasing user satisfaction
Quickly identifying and fixing the errors
Enhancing the company's growth in the mobile app market
Increasing mobile security
Benefits of making a courier app
There are many benefits offered by courier delivery apps. Let us discuss them all in brief:
1. Upgraded customer experience
With the courier delivery app, you can offer better customer service. It allows users to experience the convenience of online booking. The users to book their delivery, the cost of the parcel, and many more. It helps you know what your customers are better in turn boosts your brand value too.
2. Built Trust
Transparency is the key to any business. The courier apps maintain transparency with the users by letting them track the packages. Customers get to trust your brand if you maintain transparency. It also helps your business grow by providing you with a huge customer base and attracting the right customers.
3. Assurance
Customer assurance is the key and is important for businesses. By using the app customers will be able to trust you and give assurance while boosting the brand value for the customers.
4. Better brand image
You can now better create a brand image by working on the app and constantly giving the brand value to the customers. It helps to build a better brand and satisfy customers.
Features of the courier app
Courier delivery apps process your request and help with quick delivery. Let us check a step-by-step guide and know the procedure of the courier delivery app development process:
1. Login and Registration
The registration for the app should be simple and efficient. The users can signup using their email id, contact details, and more. They can also signup using their social media accounts.
In the case of courier delivery apps, users can sign in with information such as name, address, contact details for future reference, and more.
2. Premium & Fast Delivery
This is another crucial feature that helps your customers and business owners. The users can use the method of premium delivery if they want to get it delivered on an emergency basis. It assures a 100% guarantee of safe and fast deliveries.
3. Real-time Tracking
Real-time tracking is the most significant feature of courier delivery services. It integrates all the necessary features and allows tracking of the information in real time. With this feature, the admin, customer, and driver stay hassle-free, and the delivery is streamlined.
4. Packaging
Courier delivery app development should offer features where the user can have the option to choose the packaging. It eases the delivery process for the users and delivers the packages to the destination where they are no physical damage.
5. Push Notification
Push notifications help users to stay updated with vital information. The information includes the estimated delivery time, shipment, and other product-related information.
With push notifications, you can receive the information at your fingertips. It also allows you to send offers to the users which further increases user engagement.
6. Payment Gateway
A payment gateway is one of the critical features that you must integrate into your on-demand courier delivery application. It gives your users several options to pay for the deliveries.
7. Offers
Offers are essential to make the customers stay engaged and loyal to your courier service. Offers attract customers and help them to choose your brand over your competitors. The best way to use the offers in the current era is by personalizing them according to your customer needs.
8. Reviews
Reviews are the essential features that help build trust for the delivery of services. When the page is responsive, the users can add ratings and reviews as per their feedback. It improves the business based on genuine ratings and helps you succeed in a competitive market.
Cost estimation of Courier Delivery App Development
The development cost of the courier delivery app is not appropriate. However, several factors affect its cost. Here are a few factors that determine the price of the app:
Planning an MVP or a feature-rich application.
The platform for your app development – iOS, Android
The hourly rates/Geographical location
API Integration
The post-launch
Generally, the cost of building the courier booking and delivery mobile app platform is $10,000 to $30,000, and it would require around 15 weeks for the project completion.
Winding-up!
The craze for on-demand courier delivery apps is high and will continue to be short. We hope you have got the complete information on courier delivery app development. If you are thinking to develop an on-demand courier delivery application, get in touch with OZVID for the best solutions.