The adoption of mobile health applications is on a rise and becoming a norm. No longer the dull and monotonous queues and waiting hall to get inside the doctor's chamber. However, in recent times there is a drastic change in the scenario and all the credit goes to the mobile app development.
Statistics show that there are currently over 325, 000 health-related mobile apps now presented on app marketplaces. Let's have a sneak peek at the stats with constantly escalating healthcare apps.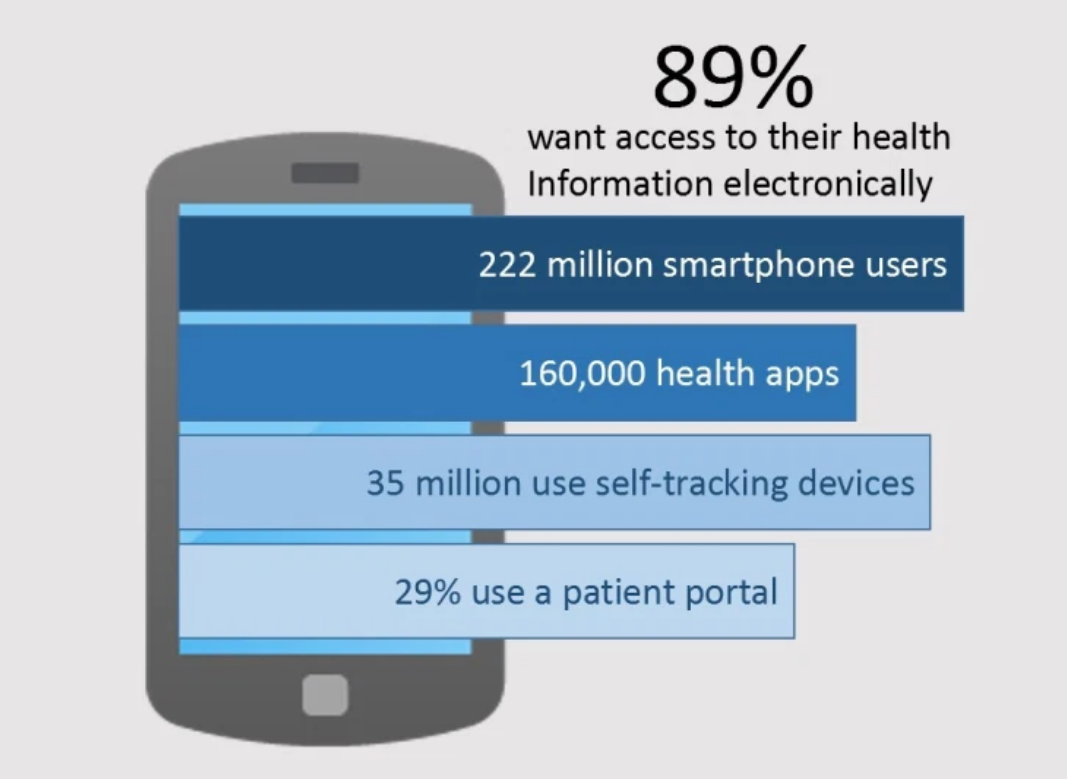 Therefore, all the clinics and hospitals must follow the real trend and fully meet the latest clients' expectations. Yes, all the modern hospitals and companies indeed need mobile apps, and if your organization doesn't have one it's high time you get it developed!
Using Mobile Technology in Patient Care
As mobile technology has become ubiquitous, doctors can easily diagnose the disease and monitor patient care. Also, communication has become sought between the patient and doctor as it can be done anywhere in any part of the world. Patients can send an email and have access to the appointment via chats and calls.
With the advancements of technology like Artificial Intelligent, it has become easier to detect differences in images that a normal eye might miss. It also helps to guide patients in surgeries and offer patient care based on the inputs. From counting meals to tracking health conditions, educating patients, reminding users to take their medications and meal on time, and almost anything else.
Main Features to Include in a Healthcare App
To develop a mobile health app successfully, one must know the features they want to define to target the specific audience. Don't forget to include the following healthcare mobile app trends, that may enhance your app:
1. Geolocation
Integrating map services allows patients to find the best and nearby clinics suitable for them. Also, with this feature hospital staff can find the patient if in an emergency.
2. Real-Time Chat
Integrating real-time chat options let users and doctors communicate excellently. We create specific features that allow integrating these kinds of features.
3. Schedule Reminders
It allows users and patients to get timely reminders whether it is about their medicines, prescription, doctor visit, and other.
4. Internal Payment Gateway
The payment option should be available, and mind to secure it properly with standards.
Top advantages of using mobile devices
So it's vital to understand the benefits and how you can incorporate them without causing any harm.
Here are the top advantages that help transform patient care:
1. Better Point of care coordination
The traditional method of care says patients after treatment and acute condition when they are discharged are given prescription and instructions by the nurse. With so many medications and prescriptions, the patient might get confused which can lead to medication errors. Poor communication can hurt patient care and health.
But with mobile applications, the dynamics have changed. The communication has become seamless and there is better coordination, diagnosis, medication, and follow-up process. This has made a huge difference and has streamlined the inpatient and outpatient care.
2. Remote Patient Monitoring Easy
Remote patient care means home care when the condition of the patient does not allow them to visit. Using mobile apps and devices they can simply gather all the information automatically and transmit it to healthcare providers.
Without mobile devices and technology, wearable devices like watches, fitness trackers, and wristbands would have been inconvenient or maybe not possible at all. With remote patient monitoring, you can even track and manage the chronic condition of patients and ensure they follow the instructions and medications correctly. Here are the types of data you can transmit:
Weight, blood pressure, and heart rate monitor.
Diet Data Tracker
Glucose Meters
3. Enhances Efficiency of Physician
Physicians of course are the backbone of efficient healthcare management. As per research from AMA, 60% of Emergency medicine doctors feel burned out. They complain about losing their efficiency as most of the time is spent on administrative tasks.
To resolve the issues, mobile apps record all the patient data and information that too with no error. The devices automate the paperwork and free the physician from these tasks, enhancing their efficiency.
4. Offers Convenience
As the healthcare professionals have now replaced their heavy and bulky health books with portable devices and apps there is no wastage of time running to the libraries and search for relevant information. Guidelines, instructions, reviews, journals, and literature can be conveniently accessed with their smartphones.
Steps of Development of Healthcare Mobile Apps
Step1: Choosing the right Technological Partner
It's crucial to choose the right technological partner for the development of the app. While you choose to ensure deep research and check of their previous work, client's reviews, portfolio, and company's tech expertise.
Step2: Ask for a detailed Quote
Share your app idea with the developers and ask for a quote. You can do so by simply filling the contact form or schedule a meeting with the business team. Make sure your idea is clear, and you include the customizations if there are any.
Step3: You would receive a rough estimate
Based on the details of the project, the business analyst would offer a rough estimate for your project and send it to you.
Step4: Launch of Inception
Once you are ok with the initial rough estimate, discuss the time, milestones, customized features and clarify all other details to create user stories, mockups, and wireframes.
Step5: Start the Development Process
Then starts the process of development. When both parties agree to the deliverables and inception phase the developers start to build the app iteration by iteration.
There is no doubt that mobile apps and technologies have replaced the daily routine of humans. It has simplified the life of the user and physician to a large extent. All the complicated tasks and queries could be resolved in seconds with a plethora of options.
There are many types of healthcare apps aimed at different users. If you are looking for a healthcare mobile app you have to consider impacts, end-user, features, and much more. Want to receive any further consultation and estimation, drop us a text!