E-learning is one of the industries with a sudden boost after the pandemic. The exponential increase in the utilization of online platforms like Udemy for learning has encouraged entrepreneurs to invest in these kinds of applications.
Research says, in 2019 global e-learning market was worth $101 billion, but the number continues to grow, and in 2026 it will reach $370 billion.
Although there are many e-learning platforms, Udemy has got most unique features and stands robust among its competitors. The platform is available for everyone-the teachers, students, or professionals. During the pandemic, schools and colleges were shut down, and everything came to a standstill. It was real-time people started to understand the value of these applications.
If you are planning to build an e-learning platform like Udemy, this guide is for you. Read on and learn about the business model, the working, and how the app makes money.
E-learning App Market Explained
E-learning has changed the traditional education system and is one of the fastest-growing industries in the world. The market shows exponential growth and will reach $250 billion between 2021 and 2027, with a CAGR of 21%.
The rise in distance learning is driving staggering growth in the worldwide e-learning market.
According to Global Market Insights, as of 2020, the e-learning market was around $250 billion. It will surge and by 2027 will hit the market with $1 trillion.
Stats depicts that by 2025, the e-learning global market will reach $300 billion. Here is a graph that represents the growth of these applications.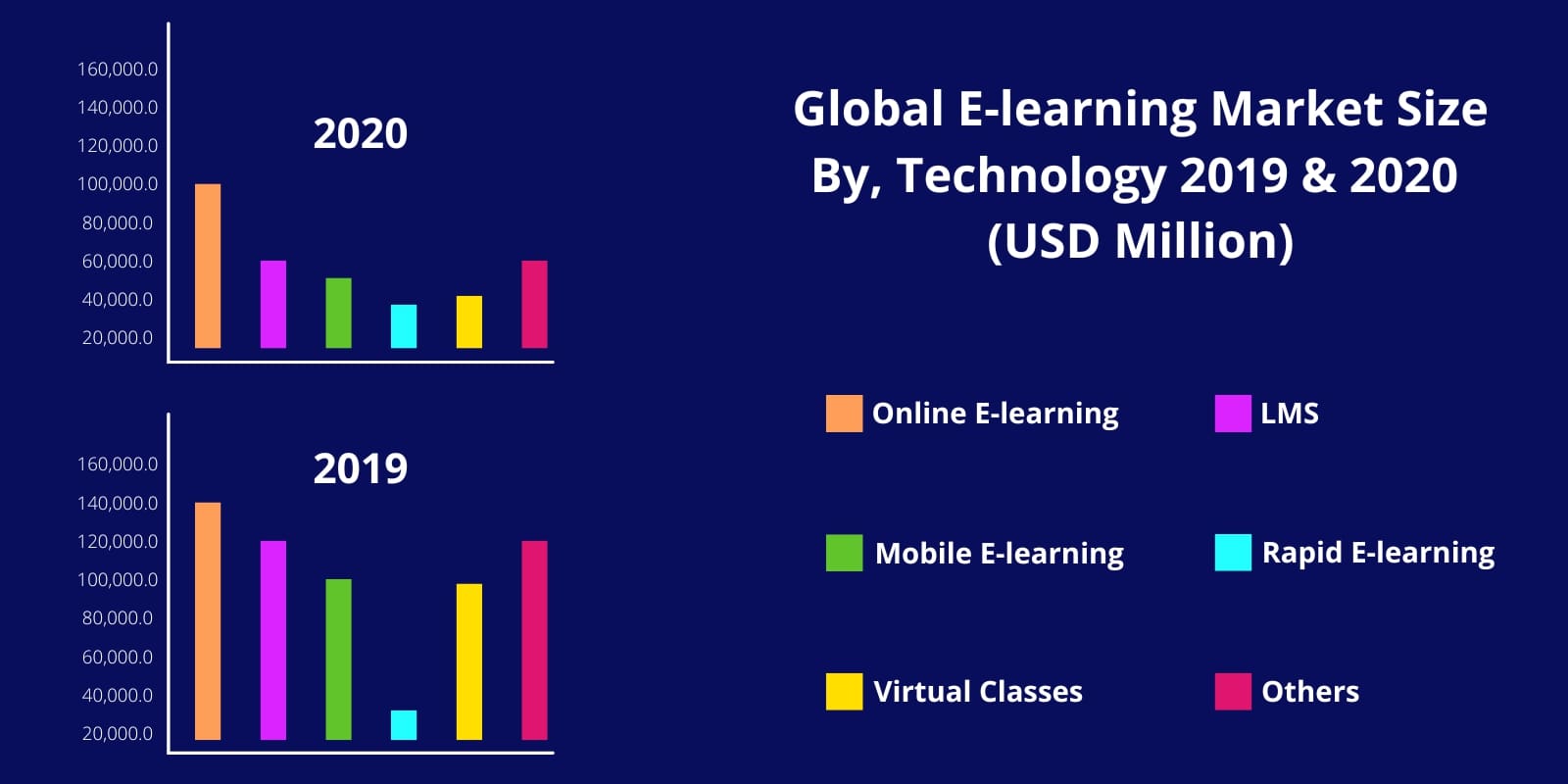 Why eLearning Solutions?
With the growing technology, most people have access to the internet, and the eLearning industry is prevailing. Everyone is using online resources like Udemy, Coursera, Edx, etc. to learn or teach people. Let us shed some light on the reasons why eLearning solutions are growing swiftly.
Flexibility
Cost-effective
Learning pace
Multiple access
Now let us learn these points in detail.
Flexibility: eLearning websites and apps offers time flexibility. These websites and apps have made it easy for users to learn from anywhere at any time with any device like mobile, tablet, or website. The eLearning industry has replaced traditional ways of learning and has proven to be more effective than traditional methods.
Cost-effective: Another main reason why people prefer online courses is that online courses are way more cost-effective than classroom courses. With online courses, people don't have to travel from different cities, online learning saves their travel and accommodation expenses.
Learning pace: This is one of the biggest advantages of eLearning. Online learning has given liberty to users to learn at their own pace. Users can give as much as time they want on any topic and can watch videos as many times as they want. They can retake the whole course and are free to download the whole course and can watch them offline mode.
Multiple access: Users are allowed to sign up for multiple courses and can watch any course at any time. This feature made eLearning more effective as users can gain as many skills as they want and are free to enroll in any course of their choice.
How does Udemy work?
The work of Udemy is simple. Udemy was founded in 2009 and became one of the most loved e-learning platforms by teachers, students, and professionals. The platform has approx 50 million students, 57,000 trainers, and a library of 40,000 courses that students can pursue as per their interests.
The app works on a marketplace business model where students and teachers can register themselves and meet their needs. The platform acts as a mediator for them and has no authority over the courses online. The platform allows you to choose your designation- for either student or instructor. It is how the app works:
1. Get different skills to discover
Udemy has different courses that the professionals can add as per their niche and interests. It can be business, science, technology, health, and more. There is almost every skill you can learn on the platform, and there is no restriction to it!
2. Makes education affordable
Availing of the courses on the platform is not an expensive affair. The courses are designed to keep the children's or users' education in mind and are not very expensive. Moreover, the app allows you to avail yourself of plenty of coupons and discounts!
3. Learn at your convenience
There are no limitations or restrictions. If you avail of a course on Udemy, you can begin whenever you want, and there are no assignment deadlines. No matter whether you have a hectic schedule or are busy, the platform allows you to complete the course at your own pace.
4. Showing off your certificates
After finishing the course on Udemy, the app provides you with a certificate of achievement that you can share on your social media and add to your resume.
What is Udemy Business Model?
When the e-learning concept came into existence, it began with the concept of offering free courses for users. But as soon as the platform gained popularity, big brands and universities started collaborating with them, and they started to monetize the platform. Let us discuss the various business models the app offers:
1. Paid certificates
The online learning app platform offers free courses for students and users. However, if anyone wants to do a paid certification, they need to pay a certain amount of fee for the same. The certification courses are given by renowned universities with a high affiliation. As the platform offers paid subscriptions, you need to approach different universities for their affiliation.
2. Corporate eLearning
There are a plethora of companies now asking their employees to go through specific courses on Udemy to enhance their skills. Udemy offers courses to the employees as per their niche, and in return, the corporate companies pay them a hefty amount.
Research from Forbes says that an eLearning platform called Coursera earned around $140 million in 2018, and there was a contribution from the corporate sector.
3. Paid Courses
Not all the courses available to the users are free of cost. Some have specialization and need to pay a certain amount. When the user pays to avail of the course, the major part of the earnings goes to the course trainer for designing it.
If you are looking forward to developing an e-learning platform like Udemy, we are one of the leading organizations and can design business models as per your need.
How does Udemy Make Money?
Udemy-like platforms can generate revenue by following business practices. It is similar to the marketplace business model of Amazon and fulfills all the user needs.
Here are the popular revenue models of Udemy, that help them earn a large sum of money.
1. Subscription-Based Model
With the launch of Udemy Pro, users can enjoy a broad range of customized courses that engages the most of their attention.
If the user wants to avail of those courses, the app charges them a monthly fee to access the account. It is the working of the subscription-based model.
2. Revenue Sharing Model
It is another popular model. It allows the service provider and business owner to share their amounts earned. The model works in three different parts:
Paid Acquisition
You can run a Google ad for your services as it offers the best way to gain the targetted audiences. However, for the conversion, Udemy does not earn the whole amount. Google shares the cost in a ratio of 3:1.
After the student avails of the course, they send the money to different sources from where the traffic comes. The rest is shared between the platform and the instruction. The platform earns the highest ratio.
Organic
Well, organic goes a long way and is one of the best methods allowing you to earn. However, organic takes some time and requires you to be patient. When the user searches and clicks on the link, they come directly, with no references.
Promotion
When the student purchases a course on Udemy via the referral link of the instructor, then the almost maximum amount of money is reverted to the instructor's account, and the app keeps the minimum share of it.
3. B2B Model
Udemy has come up with some exclusive courses for professionals and their businesses. In this model, the employee avails the course to brush their skills.
This model consists of short-term courses that are quick and fast to learn and gauge their skills.
How to make a platform like Udemy?
There are a few steps that you must know to develop a platform like Udemy. They are:
Know your User
Select the business model
Investigate the scope
Choose the type of platform
Design MVP
Let us learn the above-mentioned points in detail.
Know your User: The eLearning platform is vast, and it is not limited to students only. It has users from all age groups. According to stats, 46.4% undertaking online learning are age 30 and above, and 50% of K-12 teachers are taking online training. Most elite institutions have seen a 10% increment in students being enrolled online.
So, it is important to understand the demand for your courses and to know the age group that you are targeting because it helps in your app's scalability and flexibility.
Select Business Model: The next step is to choose the type of business model. There are different ways of making money using e-learning platforms, but you should choose the one that fits your business the best. Also, you should know that you need to retain customers, so choose the model accordingly.
Investigate the Scope: Well, there are a lot of eLearning platforms that you can investigate for your product. You can consider the platforms that choose a specific niche and gain high popularity. The most common and household name is Skillshare. Skillshare is the best example to learn from when you are looking to make courses on filmmaking or any other creativity-related fields.
Choose the type of platform: Choosing a platform can be tricky. You can choose between Massive Open Online Courses (MOOC) and Learning Management System (LMS) platforms and create your customized platform. If you are creating a platform that can be accessed by anyone you can choose the MOOC platform. By doing so, people from any part of the world can access your courses without worrying about their niche. The best example of a MOOC platform is Udemy.
But if you want to restrict access among schools, colleges, or companies, you can use the LMS platform. These are designed for the specific customer and not all can access these platforms.
Design MVP: When you are finalizing the product, ensure that you create a Minimum Viable Product (MVP). It consists of all the important features and designs and gives you an early idea about how your product is going to do once it gets live.
Cost of Building an App like Udemy
Now talking about the cost of app development like Udemy, many factors affect it. Here are a few of them:
1. The Development Team/Hourly Rate
2. Technology Stack
3. Platform you choose
4. Maintenance and Marketing
5. Third-Party Integration
The final cost to build the Udemy app with basic features is estimated to be $20,000-$30,000. The more advanced features you want to integrate, the higher will be the cost of the app.
Summing-it up!
That was all about the Udemy business model and monetization strategies. Apps like Udemy are one of the most fascinating and progressive concepts. Are you planning to step into the ed-tech world while developing a robust e-learning app? If yes, you can get a consultation from us regarding e-learning app development.
OZVID is one of the top-notch software development companies, that help you develop the most robust solutions. Contact us today!