Today, the sports industry has changed to a great extent and has become an investment-worthy business. People prefer different supports such as baseball, football, cricket, basketball, soccer, and more according to their interests. And sports apps have become a perfect way for sports enthusiasts to connect with people from the sports community.
By 2028, the global sports app market size can reach USD 6.5 billion at a compound annual growth rate (CAGR) of 9.4%.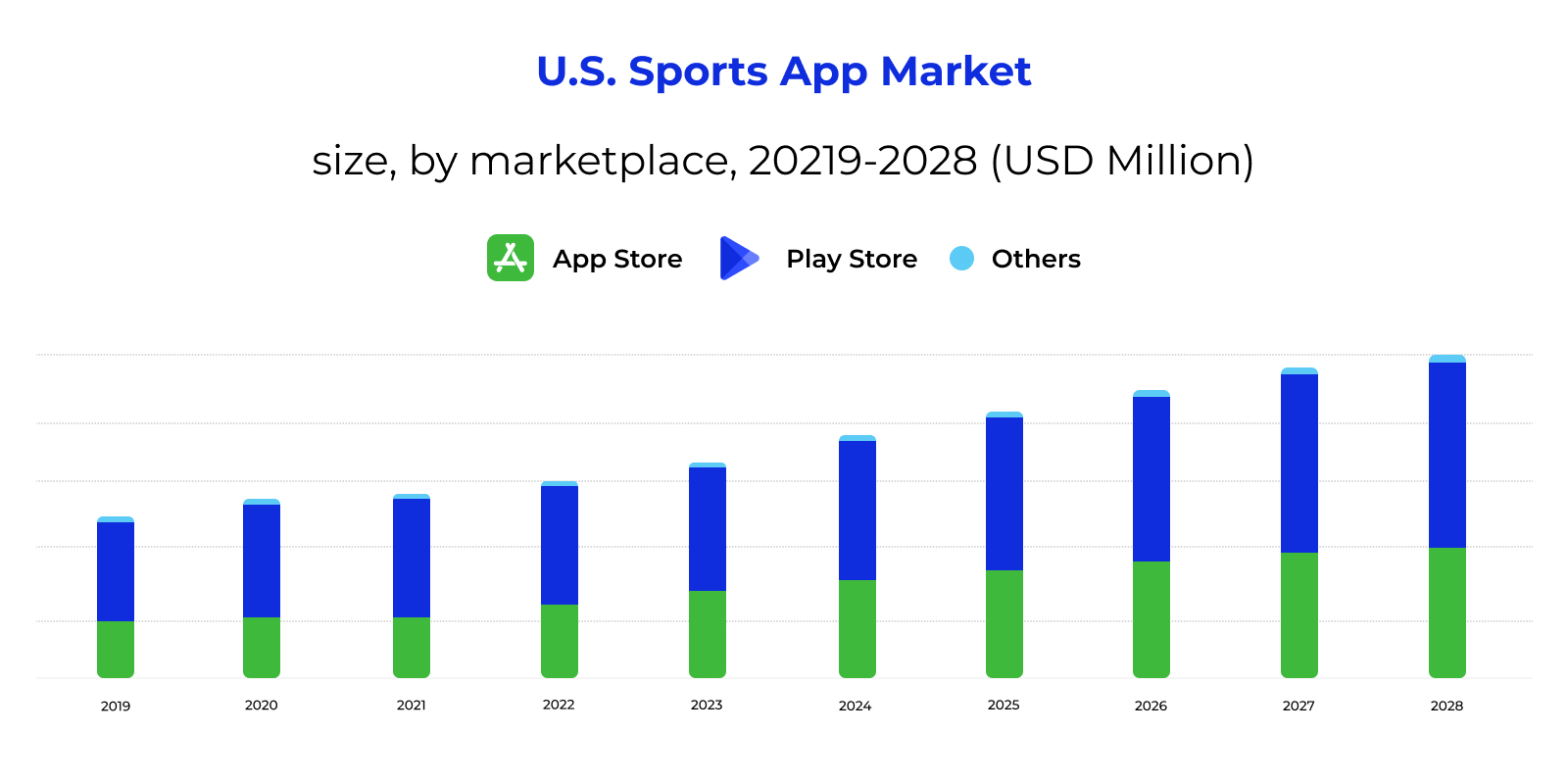 The sports markets are of two types:
Participant sports
Spectator sports
From 2022 to 2023, the global participatory sports market grew from $312.33 billion to $326.80 billion at a CAGR of 4.6%. Also, the market can reach $390.28 billion in 2027 at a CAGR of 4.5%.
In 2021, the global spectator sports market reached $164,932.2 million and can grow from $164,932.3 million in 2021 to $354,000.2 million in 2026 at a rate of 16.5%. Also, the global spectator sports market can grow at a CAGR of 11.0% from 2026 and reach $597,531.1 million in 2031.
The above stats show that the sports industry is massive, and investing in sports apps can be profitable. There are numerous sports apps available in the Play Store and App Store. While developing sports apps is difficult, knowing the latest ideas and trends can help you create the apps.
The top trends to follow in Sports App Development
There are numerous sports apps available in the Play Store, and to win the competition in the market, you must include features that are not present in other apps.
But how will you do that?
It is a must to keep yourself updated with the latest trends in the sports industry. Here are the sports market trends that you must know.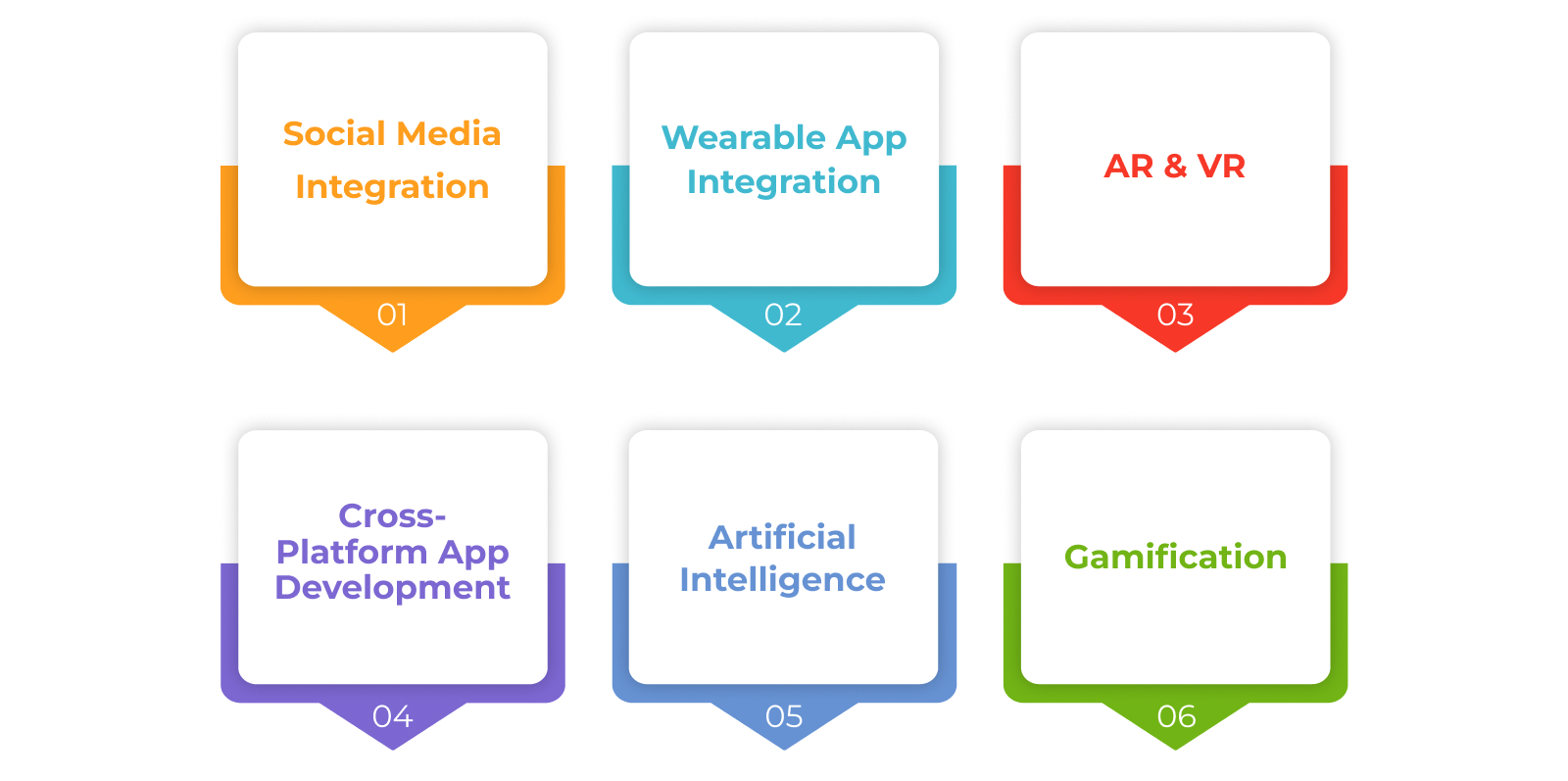 Let us dive deep into the article and discuss the above points in detail.
Social Media Integration: This feature helps users share their experiences on social platforms. Social media integration users interact, as they can share their feelings, experiences, and views on apps like Twitter, Instagram, Facebook, and others.
Wearable App Integration: Wearable technology has become the most prominent trend in the market. Adopting wearable technology in sports is helping companies enhance their performance and efficiency. The companies such as Zephyr Technology, Smartlife, Viperpod, Catapult, and miCoach are adopting wearable technology to grow their businesses. With the progressing technology, portable apps have become one of the most crucial parts of our daily lives.
AR and VR: Virtual reality (VR) and augmented reality (AR) plays a vital role in the sports industry. These technologies give users seamless real-life experiences in the virtual world. These apps are crucial for live game streaming, giving users the real-life experience of a stadium stand while sitting in their rooms.
Cross-Platform App Development: With time, we have seen that businesses are shifting from mobile app development to cross-platform development. Some tech giants such as Alibaba, Pinterest, and Facebook have already transitioned to cross-platform development to boost their efficacy. The combination of AR and VR in sports apps has given the sports industry a revolutionary push while ensuring high performance and affordability.
Artificial Intelligence: Artificial Intelligence (AI) is an integral element of the tech industry. It gives a better user experience with high accuracy. Integrating Artificial Intelligence in sports apps gives a tailored offer and seamless user experience and improves the user base. Additionally, AI offers support services that help businesses solve user queries with pre-defined answers.
Gamification: With the enormous growth in sports app development, Gamification has become a part of sports app development. It helps businesses integrate new features into web and mobile applications to increase user engagement. Also, it helps in retaining users for a more extended period.
With that, we have discussed the major trends in mobile apps. These trends can help and are proven to be the game changer in the development process of sports apps that can further help you empower your business.

The top trending Sports App Ideas
Here are a few top trending sports app ideas that will help you attract many potential users. These ideas can help you increase the overall profit of your business. Let us learn about them.

Let us dive deep into the article and discuss the above points in detail.
Fantasy Sports App: These apps allow users to create virtual teams of real players, and these players compete against each other. These apps have gained global popularity.
In this App, users choose a match of interest, log in, and verify the OTP. Fantasy Sports App allows users to participate virtually in the games, build their teams, and play.
These apps give users a feeling of contribution to the games they like. In response, this makes these apps extremely popular among users.
Sports Ticket Booking Apps: These apps give a 3D map of the stadium, allow users to book the seat of their choice, and display the available seats that users can reserve. These apps help users find seats to their comfort. Users tend to choose the seats with the best view and can book seats for their preferred games.
In addition, you can add some extra features to the app, such as purchasing refreshments and having them delivered to the users at their seats. Also, your sports ticket booking apps must have a notification feature to inform users beforehand regarding upcoming events or if there is any change in any event.
Sports Betting Apps: People not only like watching sports but also enjoy investing in the teams of their interests. Sports betting has become legal in several countries, and users invest their money in games. There are several types of betting, such as traditional betting, which takes place in a betting marketplace by a bookmaker. Nowadays, sports betting applications use many business models and employ many internal currencies and bitcoin exchanges.
Sports Fitness Apps: Fitness apps are highly trending, and all athletes understand the importance of staying fit. So, these apps are quite popular among people who are in sports. Also, businesses are combining wearable technology with sensors in all these fitness apps. It helps users track their fitness routine and health. Sports Fitness Apps should have features like a nutritional calendar, map, tracking and video guidelines for workouts, calorie counters, and statistics.
Sports News Apps: This is another good idea to enhance the business. Sports new apps can inform users about what is happening in the sports world, such as tennis news, football news, cricket news, etc. Additionally, it helps users stay up-to-date with what is new in sports technology.
Live Streaming Apps: Live streaming is an essential sports news app. Some apps are developed for live streaming. These apps enable users to watch everything live about their favorite support, leagues, teams, real training, games, or video blogs.
Moreover, live streaming apps have a lot of followers who stay connected with their screens and are financially capable. Furthermore, live streaming apps include a live chat feature that attracts and engage more users. Also, these features made it easy for the viewers to communicate easily with each other and the sportsperson. Live Streaming Apps have features such as high-quality live streaming, Chromecast assistance, and search and filters for channels.
Sports Equipment and Inventory Apps: Sports Equipment and Inventory Apps keep every sportsperson updated with the details such as sports food, nutrition, equipment, wearables, and other goods. The sports and inventory apps should have features such as search and filter options, product pages with images and descriptions, product catalogs, payment methods, shopping carts, reviews, and more.
Sports Celebrity Apps: Sports Celebrity Apps offer a seamless way to connect with celebrities. These days all celebrities follow trends to build their apps and communicate with their fans and followers. Also, they tend to share their daily lives with them. Sports celebrity apps also keep users updated with forthcoming events. These include the places or events where celebrities will perform and participate, their records, and other things they are willing to share with their followers.
Sports Coaching Apps: Sports Coaching Apps support coaches by helping them keep a record of a sportsperson or athlete's schedules, monitor their food routine, create new training modules, and tracking their nutrition, and more.
These apps offer sportsperson's video clips so the coaches can track, check, and decide if they need any improvement or more. Furthermore, businesses can add a one-to-one feature to the app to make workout and practice sessions more effective and personalized.
Sports Facility Reservation Apps: Sports Facility Booking Apps work well for the sport's owners of a basketball court, gym, tennis center, stadium, or swimming pool. You can add features where owners can write the description of their schedules. It allows users to choose the timing of their choice.
For example, a swimming faculty app enables users to book practice sessions as per their comfort level. Also, it informs them about the swimming instructors and coaches. Additionally, it has great payment gateway integration to help users make payments conveniently.
Sports Quiz Apps: Sports Quiz Apps are used widely by sports enthusiasts as they prove engaging quiz games. People of all age groups can play these games. They provide robust animations for quiz events, audio commentary, amazing gaming experiences, and more.
These games help users enhance their support knowledge and hence they are loved by all sportspersons. Also, these apps offer rewards and prizes after winning the games simultaneously.

Features that you must consider integrating with your Sports App
Key features your Sports App must have to stay ahead of the competition. They are: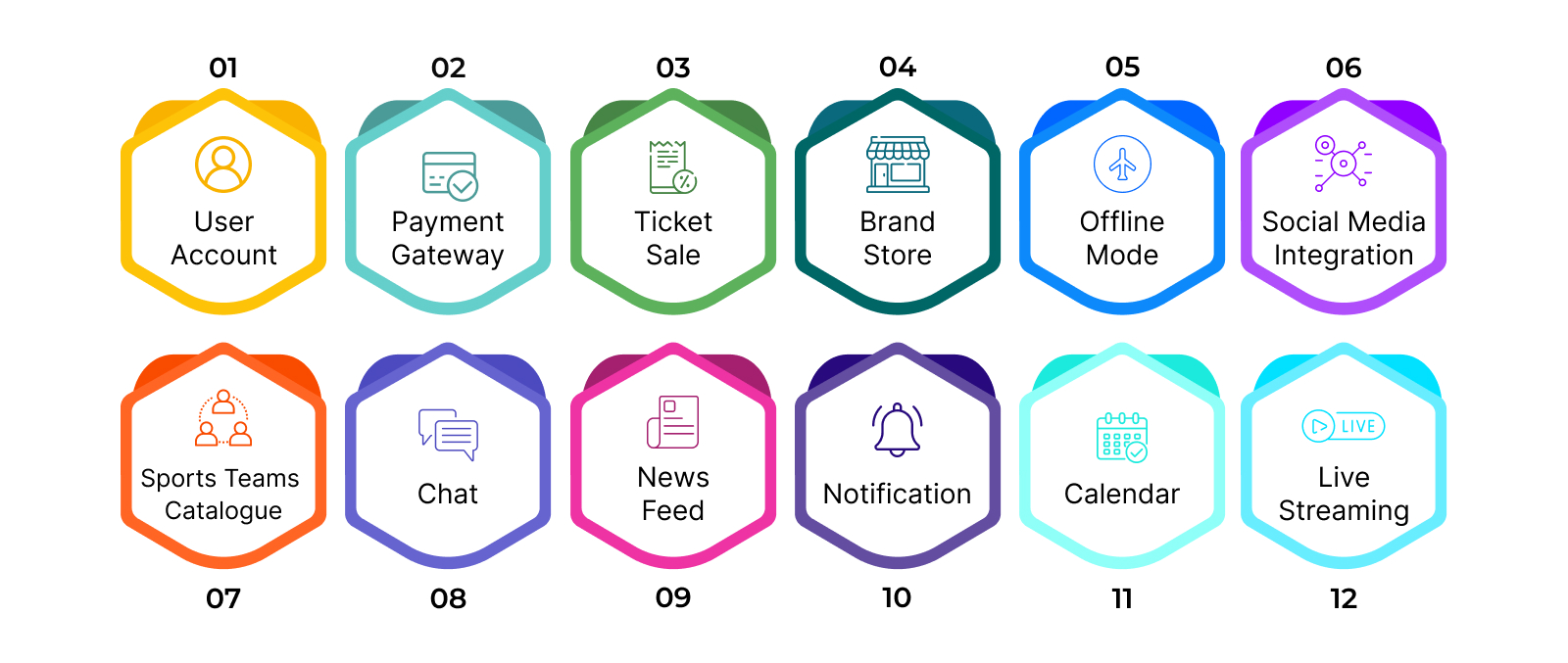 How much does Sports App Development cost?
The cost is not defined and depends on numerous things. Firstly, you need to determine which platform you want your application to run on i.e. iOS, Android, or both. If you choose iOS or Android, the cost can be more as come to cross-platform or hybrid development. After that, developing the MVP, analyzing the real user's feedback, and then launching the real product can cost you a lot. Moreover, the price depends on the expertise of developers or product owners.

Bottom-Lines
With technological advancement, all businesses, regardless the size, are moving to the web and mobile app platforms. Hence, developing a mobile sports app can be a great idea for the sports industry. But sports app development is a hectic process and needs knowledge of the latest trends. So, it is wise to take the help of professionals who can help you build, launch, and scale your application.
While choosing an app development company, ensure that they have the necessary skills and knowledge of the sports industry, so that your sports apps offer a high-quality and seamless user experience.
So, if you are planning to develop a sports app and looking for a reliable app development company, look no further than OZVID Technologies. We have a team of professionals who are well-versed in the latest technology and trends in mobile apps and the sports industry. Our developers have helped many clients globally, and they ensure that our clients get high-quality apps.
Want to learn more about our mobile app development services?