For all the busy and introverted people, dating applications acts as a savior that helps to start a relationship. The dating apps have been competitive among other online platforms, as it is tough to retain customers. The application works on a simple strategy - swipe, find your match, and date.
Do many people think that developing a dating application is a lucrative business opportunity, but is it so? How do these platforms generate revenue when most of them are free to join. Well, there are many ways you can monetize your dating application and boost your revenue.
So, whether you are looking forward to developing a Tinder clone or something more innovative, we are here to guide you about the best app monetization methods Tinder offers.

What is Tinder, and how does it work?
Over a couple of years, online dating applications have changed the prospect of dating. No longer do you have to hit on people and face rejections. Tinder is a virtual dating application where users can easily find someone who matches their preference and then swipe them right.
The other user can either reject them or begin the conversation. The app working sounds simple, and anyone with even no knowledge of these applications can use them.

Different Types of Dating Applications
There are generally four types of dating applications that help users and businesses to generate profits:

1. Geolocation Matching
As the name says, these are the applications that aggregate potential matches based on geographical proximity. The apps are similar to Tinder and Bumble and work only within a location or radius.
2. Matching Algorithm based
One of the examples of these applications is eHarmony, powered by offline matching services. These are the apps based on the matching algorithm based on the choice of their personal survey information.
3. Traditional Dating Apps
Traditional dating applications are the mobile version of dating websites. These are integrating unique and replicating features that their web version has. OkCupid is one of the well-known dating platforms, which now has an app to compete in the market.
4. Niche based Apps
Niche-based applications target a specific group of people. These are the applications where the users can expect other users to have some specific shared interest or lifestyle. One example of such a dating application is Bristlr. It is a location-based social search mobile app that facilitates communication between bearded men and women who love beards.
Statistics and increased usage of Dating Applications
The lockdown imposed several limitations for the users, as people were at home and self-isolated. People were following the physical distance measures and began using Tinder! The unique selling point of the Tinder application is that it allows users to meet up virtually with strangers and know them, only if they are interested. Tinder users continue to rise, and the younger generation and millennials are even ready to pay for these services.
Tinder launched in 2012 September. The social app facilitates conversation between two users manually if they are interested.
The app is roughly available in 196 countries and is enjoyed by users in 30 languages.
Tinder gets around 1.6 billion swipes per day, and there are around 20 billion matches.
Tinder made a revenue of $66.4 million in the fourth quarter of 2019 in the US, and there were sales of $8.28 million in the UK.
For the year 2020, Tinder generated a revenue of $1.4 billion for the entire year, leading to an 18% raise every year.
From the App Store, Tinder's income in July 2020 was around $38 million.
As per reports, Tinder is not only a dating application, out of 20 million matches, 80% of people are looking for meaningful relations.
The statistics show the number of paid subscribers from the 2015 1st quarter to the 3rd quarter in 2020.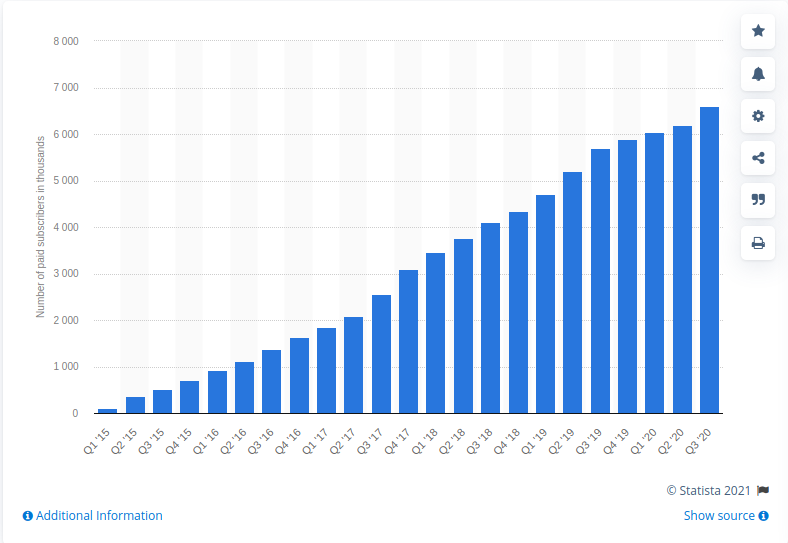 Profit Generated by Tinder in 2021
With the increased curiosity among the users to find a perfect match for themselves, the app usage increased. When we talk about how many people are using Tinder in 2021, it's 51 million. Not only Tinder, but there are also many other platforms like Bumble, Hinge, and more competitors in the market. Tinder is one of the most competitive among other apps. After watching its profit margins, the users are curious to know about the ways to generate more revenue.
The curiosity behind Dating Apps making Money
Here, we focus on the three monetization strategies for a dating application like Tinder and how it helps generate revenue:
1. Paid subscription or Premium plans
It is one of the most common monetization strategies in which the users need to pay an amount for using the app and use additional features. Let us look at each plan individually.
Tinder Plus
It is the most basic and premium version of the Tinder application. When the user avails of the subscription, you can then unlock some of its features that are not there in the free version. You can rewind on the swipes and more. Tinder Plus costs around $9.99 /month. It also allows people to discover others in the area where they do not reside.

Tinder Gold
It allows users to access Tinder plus features. One of the benefits is that it allows them to see the profiles of other users who have liked them before swiping. The extra features it offers include Passport, Rewind swipe, unlimited likes, and five super likes every day. Here, the users have to pay an amount of $29.99 per month.

Tinder Platinum
Tinder Platinum is the most premium subscription package where there are a lot of extra features and functionalities for the users. It allows users to send super likes to someone to send an extra nudge showing your interest in them. In Tinder, Platinum users can send personalized cards to other users. It brings you more matches and allows people to see your profile on the top.
Users can even avail of these premium features for a month, quarter, or year. It is one of the most common methods where users pay and get the best features based on the subscriptions.
2. Advertising
Advertising is another way that allows users to generate revenue. Other platforms and applications can display their ads on your platform and generate revenue when a user views or click on the advertisement.
Here are the different types of Ad formats for Tinder users:
Banners
It is the most common format where you can allow dynamic and static ads on your application. For this, you need to have high-quality graphics.
Native Ads
These ads ensure that the user has no feeling of irritation by your activity.
Video Ads
These are the applications users are most interested in. These apps reach high CTR and offer user engagement.
Rewarded Video Ads
The format of the application offer rewards to the users when they complete their video without skipping it.

3. In-app purchases
The app offers the user additional functions in-app and is the best way to monetize. The users can send virtual gifts to others that boost the user experience on the app while making the profile more attractive.

How Does Tinder Make Money?
Tinder established itself in the market and began with no revenue generation for around two years. Tinder success came from the US, where there were 350 million swipes per day, and there was no stopping. Tinder then introduced the subscription models.
Tinder offers three subscription packages - Tinder Plus, Tinder Gold, and Tinder Platinum. Within the in-app purchase, Tinder generated a revenue of $65 million, and it is the most prominent result among all the dating apps.
Final Wordings!
As the online dating application downloads continue to increase, many entrepreneurs invest in app development, and the competition increases. Thus, even if you are charging for the basic features, ensure they are unique and different so that people are ready to pay for them. Adding distinctive features will help you stand out from the competitors!
However, to be successful, you must develop an online dating application of high quality, easy to use, and have the most robust marketing strategies. So, are you looking for a Tinder clone to run a successful business and generate revenue? Experts at OZVID come to the rescue. Contact us today, and we ensure to help you in the best possible way!